Burgers
Brain Food | Burgers | Drinks | Mahoning Valley Flight Crew
by MVBRB | 124 entries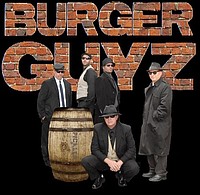 Burger Guyz
Not only do we love burgers, we are five of the biggest burger fanatics you'll find. We love burgers. We are the Burger Guyz - Jerry Tranovich, Anthony Fuda, Scott Long, Eric Tranovich, and James Chismark.
A fondness of great hamburgers has brought the five of us together on a relentless quest to find the absolute best burgers in the Mahoning Valley. We have made it our mission to visit the most popular eateries, as determined by our readers, and then report back with all of our findings. We are now bringing that mission to the pages of The Vindicator.
Once a month, we'll be showcased in Valley Food. But all the other days and hours of the month, watch for us on vindy.com as we blog and boast about the places we've been or are going to, and the comments and bits we pick up along the way.
Give us the name of the restaurant, tavern or bar that you think flips a great burger! Email us at mvbrb@hotmail.com or friend us on Facebook and leave a comment.
Archive: 2012 | 2013 | 2014 | 2015 | 2016 | 2017 | 2018