This site only contains content published by The Vindicator prior to September 1, 2019. For current content from the Warren Tribune Chronicle's Vindicator edition, visit vindy.com. This site is not affiliated with the Warren Tribune Chronicle or its Vindicator edition.
Bound Volumes
Own a piece of history from The Vindicator Printing Company. Purchase our historic bound volumes for only $30/each.
Click here to fill-out a sales order request form.
These are duplicate volumes of ones in our internal complete set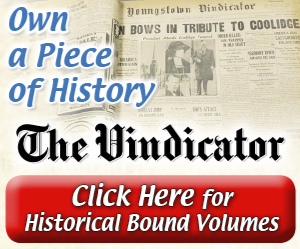 June 25, 1869 - August 31, 2019