Click here to view the roster
All-American Conference White Tier
Div. IV
Season Record 0 / 10
Team Roster 2011
Name (letters)
#
Pos.
Year
H / W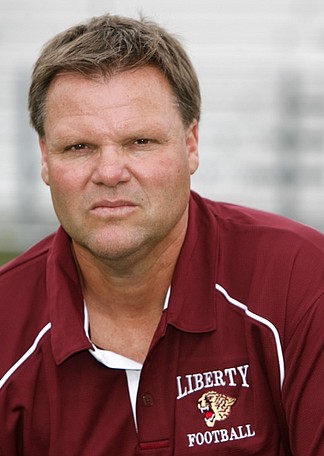 COACHING STAFF: Jeff Whittaker, head coach (17th season, 99-68). Assistants: Tom Cornicelli, Dave Davis, Brian Jones, Jim Pappada, Jerron Jenkins, Jay Cripe, Gary Knittle, Joe Simon, Jim DeToro, Chris Lowry, Chet Allen.

PLAYOFF HISTORY: 5 years, 4-5. Last appearance, 2008.

OUTLOOK: Leopards will try to bounce back from an uncharacteristic season as they begin with an 8-game losing streak. Sherron Walls and John Helms will battle to see who takes over for Charles Perdue in the backfield, while Fred Clark, Tyler Koleck and Mark Kohut will anchor both lines. Jamaal Daniels, CJ Edmonds, Brandon Stevens and Rickey Evans are experienced at LB, and Doan McKinney, Marquis Williamson, Frank Bond and Helms will solidify the secondary.

SCRIMMAGES

Aug. 9: at Salem, 10 a.m.
Aug. 13: vs. Ashtabula Edgewood, 10 a.m.
Aug. 19: vs. JFK, 7 p.m.

ABOUT the COACH

Jeff Whittaker begins his 17th season as head coach of the Leopards. He has a career record of 99-68, and has guided Liberty to the playoffs five times. In a seven-year span from 2002-08 the Leopards fashioned a 59-17 record and advanced to the postseason four times.
1 Leopard Way Liberty Township, OH
2011 Liberty Stats
Passing yards per game:
0.0176056338028
Season offensive yards:
1703
Rushing yards per game:
0.00884173297966
Season Defensive Yards
3262
League
All-American Conference White Tier