Click here to view the roster
All-American Conference Blue Tier
Div. IV
Season Record 2 / 8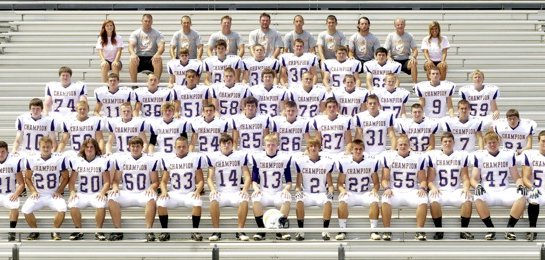 Team Roster 2011
Name (letters)
#
Pos.
Year
H / W
COACHING STAFF: Terry Howell, head coach (3rd season, 7-13). Assistants: Mike Klockner, Rick VonBergen, Corey Pate, John Allen, Mike Tricomi, Tom Conrad, Scott Anderson.

PLAYOFF HISTORY: 2 years, 1-2. Last appearance, 1994.

OUTLOOK: Strength of Champion is on the front lines. Two-way starters Adam Scher and Nate Price anchor both lines. LBs Justin Rasey and Rocco Sandrella are seniors. The challenge will be replacing all the key ball handlers, including RBs Travis Damron and James Rasey. Chris Martinek and James Naylor are battling at QB.

5976 Mahoning Ave. NW Champion, OH
2011 Champion Stats
Passing yards per game:
0.0119760479042
Season offensive yards:
2131
Rushing yards per game:
0.00771604938272
Season Defensive Yards
3234
League
All-American Conference Blue Tier