Drinks
Brain Food | Burgers | Drinks | Mahoning Valley Flight Crew
by Brian Fry | 196 entries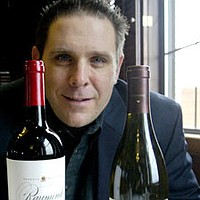 About Brian:
"I have a passion for wine and food and just how great the two can be when properly paired together!" - Brian Fry
Title: President and Founder, Valley Vino Wine Club, whose mission is to bring valley wine and food lovers together at least twice a month at locally owned restaurants and clubs for a great evening of food and wine.
Experience: Brian has traveled the world in search of great wine and food including trips to California, Oregon Washington, France, Italy, Australia and New Zealand. He worked five years as a Fine Wine Specialist for two distributors before launching Valley Vino Wine Club. He served as Wine Director for The Youngstown Club and Avalon Golf and Country Club. Brian passed the Level One Sommelier exam in March of 2015 and is a proud member of the American Court of Master Sommeliers.He is now a consulting Sommelier for several local clubs and restaurants.
Once a month his wine and beer features will appear in The Vindicator. On vindy.com, you can keep pace with Brian's tastes and travels 24/7.
If you have a favorite wine, winery, beer, brewery, restaurant or club that you would like to see featured, just contact us.
Contact Brian at brian.fry@myvalleyvino.com or by visiting the club web site at www.myvalleyvino.com. Cheers and bon appetite!
Archive: 2012 | 2013 | 2014 | 2015 | 2016 | 2017 | 2018