WILDCATS saved their season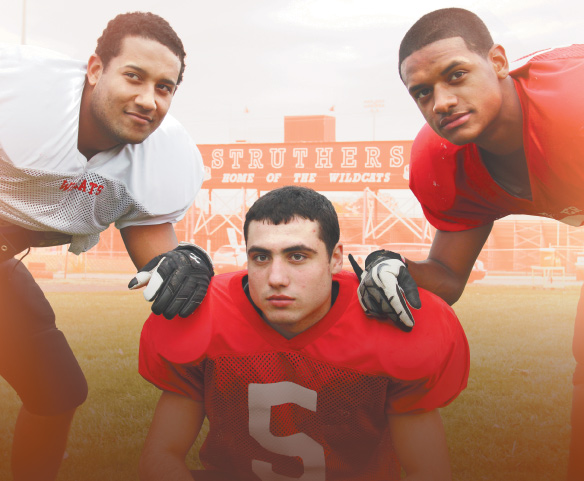 ---
Team

| Record | Div. | Conf. |
| --- | --- | --- |
| 7/3 | Div. IV | All-American Conference White Tier |
Streaky Struthers eyes AAC American Division title and the playoffs
By Steve Ruman
STRUTHERS
Following last Friday's 36-26 win over Niles, Struthers coach Curt Kuntz was asked what the victory meant to his program.
"It means that Week 10 is important, and Week 10 hasn't been important to this program and this community in a long time," Kuntz replied.
In fact, you have to go back 13 years to find a season in which the stakes were high this late in the season for Struthers. In 1999, it finished 6-4, then advanced to the playoffs for the fourth time in school history.
In 2000, Struthers again went 6-4, but didn't qualify for the postseason. Then, for 11 consecutive seasons, the Wildcats failed to finish above .500.
The streak ended last week when Struthers (6-3, 3-2) guaranteed itself a winning record. In doing so, the Wildcats also turned their regular season finale into what running back David Stewart refers to as "a possible program-changing moment."
Tonight, Struthers hosts Howland (7-2, 4-1) in a contest which will decide the All-American Conference American Division championship. A win by the Wildcats would give them a share of the league title. Howland can claim the title outright with a victory.
Enrollment-wise, Struthers is the second-smallest school in the American Division. Until this year, it competed in the White Division, which was the middle tier of three in the league.
Struthers is also looking beyond tonight. The Wildcats — ranked 8th in Division III, Region 11 — control their own playoff fate. A win would secure a postseason appearance for the first time in 13 years. With a loss, Struthers would need some outside help to advance.
Howland is eighth in Division II, Region 5. It, too, controls its playoff destiny.
"We know the importance of (tonight's) game, but at the same time we want to approach it just like we've done every other game this season," Stewart said. "Our motto all year long has been, 'Do your job.' No matter the situation, each of us has a role. If we all do our job, everything else will take care of itself."
Stewart has definitely done his part to help put the Wildcats in position to play for several coveted prizes. The senior has rushed 210 times for 1,432 yards while scoring 19 touchdowns. And, he's been clutch when his team has needed him the most.
Following a stunning loss to Beaver Local which dropped Struthers to 4-3, the Wildcats were desperate to save their season. Stewart responded, rushing for 248 yards and four touchdowns on 28 carries in a 39-21 win over Canfield. Against Niles, he had the exact number of carries and yards. For good measure, he added a two-point conversion, scored on a 40-yard reception, and tossed a 31-yard pass completion.
"I don't look at my numbers as an individual accomplishment," Stewart said. "My line does it all for me, and we have some great weapons on offense that allows me to do my thing."
Kuntz is not surprised to see Stewart respond in such fashion down the stretch.
"We can utilize him in so many different ways," Kuntz said. "He has size and speed, and he is an extremely smart kid. He gets nearly all As in school, and his intelligence shows on the field.
"David is also a team leader. He's the all-around student-athlete you want leading your team."
Stewart's pass last week was his fourth completion in as many tries this year. Kuntz noted that against Canfield, Stewart "stiff-armed three would-be tacklers en route to the end zone." Against Hubbard he "carried the load" in a key late fourth quarter drive which sealed a victory.
"Before this year, we knew what we had in Dave," Kuntz said. "Now, I think everyone in the Valley has taken notice."
Quarterback Gary Muntean, who emerged as a starter midway through the 2011 campaign, has proven to be an extremely reliable field general. The junior has completed 80 of 120 passes (10 TDs) for 1,017 yards.
"Talk about a kid coming into his own," Kuntz said of Muntean. "We have given Gary a lot of leeway this year, because he has shown the ability to run the offense in all types of situations. He's just as comfortable running a spread with an empty backfield as he is lining up behind center.
"Gary rarely makes mistakes, and he's always on the same page with his coaches and teammates."
Muntean's favorite target is Tommy Kimbrough. The senior has pulled in 28 passes (5 TDs) for 461 yards.
Kimbrough started five games last year at quarterback. His career has been plagued by an injured hip, which he first dislocated in the eighth grade.
"Tommy is just now becoming 100 percent, and he's showing his true capability," Kuntz said. "He is a go-to guy. I limited his number of touches earlier this season because he is just too valuable and we knew we couldn't win down the stretch without him.
"The next couple of weeks could be very special for Tommy."
Kimbrough is one of 12 seniors on the Struthers roster who are playing for their third coach in three years. Kuntz — a former assistant at Warren Harding, Howland and Poland — is a rookie head coach.
"These kids had to learn three different systems and they had to adapt to three coaches. They've been through a lot, and they never flinched," Kuntz said. "Talent-wise, and in terms of mental toughness, I never questioned this group. My job was to bring them together and create some stability."
Kuntz said the Wildcats' success is the result of "resilient, hard-working kids and the best group of assistants a coach can ask for." He then recalled a time in early August which perhaps best sums up the roller coaster ride that has seen Struthers win three straight, lose three of four, then rebound to win its last two.
"Our first scrimmage, our offensive line was so bad I wanted to fire the line coach, but I couldn't because it was me," Kuntz said. "But our assistants, along with a volunteer I later brought in, they worked their tails off to get all of our issues resolved. Today, our line is one of our strong points. That shows the determination of this group."
In turn, Kimbrough credits Kuntz for his ability to create chemistry and a bond he says was lacking in years past.
"We're definitely more of a team than we've ever been," Kimbrough said. "Before, a lot of us were playing as individuals."
Defensive back Chris Wess recalled the first day of summer conditioning when he and his teammates were asked to perform a drill in which players interlocked arms. By design, if the chain was broken by one individual, others fell to the ground.
"It was a way of saying 'all-for-one, one-for-all,' and we bought into it right away," Wess said. "When we came together, we believed we could achieve all our goals."
Struthers already achieved its quest for a winning season. The Wildcats now take aim at a few more goals tonight.
More like this from vindy.com