Austintown's Davis brothers will continue to play football together at Pitt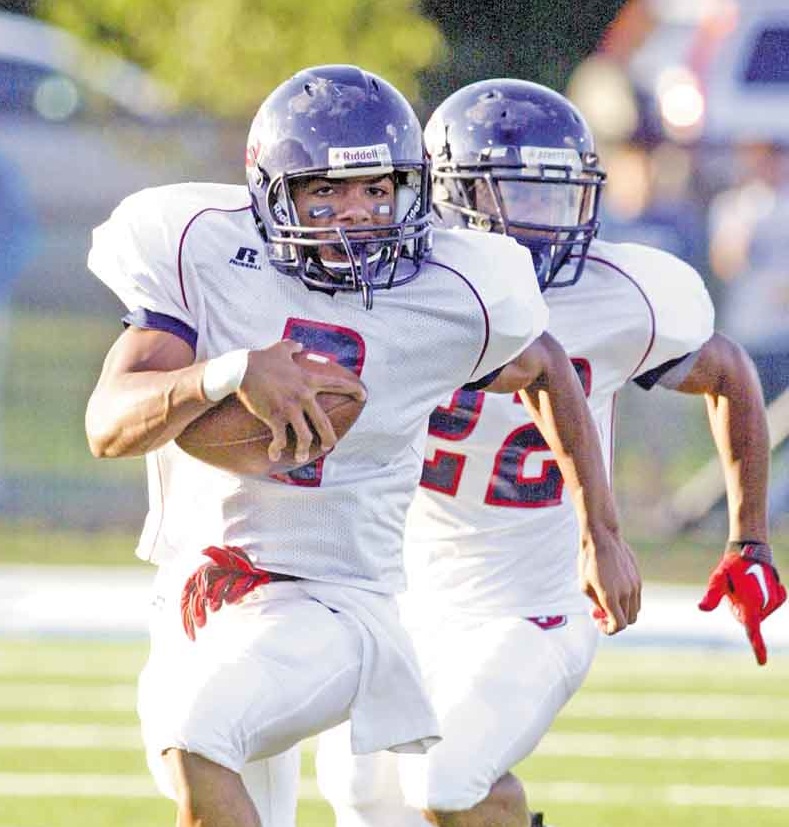 ---
By Tom Williams
AUSTINTOWN
Inseparable since birth, Fitch High's Demitrious and Chris Davis are going to stay together in college.
The seniors have committed to play for the University of Pittsburgh.
"From the beginning, we wanted to find a way to stick together," said Chris of his twin brother. "It's real special — I like being with him and we love playing football together."
Pitt recruited both as wide receivers. Chris plays that position for the Falcons while Demitrious is the quarterback who earned All-Ohio honors last season.
"It's real important that we both received an offer," Demitrious said. "We've played together all our lives so we were looking for the same opportunity. I'm glad we're going to be playing as teammates again."
The sons of Chris and Kim Davis, Demitrious added he's happy that his parents won't have to travel far to see their games at Heinz Field.
"Pittsburgh's real close and we want our family to come see the games," Demitrious said.
Demitrious said he received about two dozen offers, including Arkansas, Baylor, Boston College, Colorado, Iowa, Oregon, Oregon State, Purdue, UCLA and West Virginia.
Chris received 20, including Arkansas, Baylor, Boise State, Iowa, Oregon State, Purdue, UCLA and West Virginia.
They focused on the matching offers.
Chris was impressed with how Pitt's new coach Todd Graham has taken charge.
"Every time I went down there, I fell more in love — from the coaching staff to the campus to the academic programs," Chris said.
What convinced Demitrious was how the Panthers fans responded during the spring game.
"I like the atmosphere," said Demitrious of the Heinz Field experience. "Their fans were great even though the weather was bad.
"And I like the new coaching staff, that's what sold it."
Graham, the former Tulsa coach, takes over for Dave Wannstedt, who resigned last fall after six seasons with the Panthers.
To the surprise of few, the twins have chosen the same major — business marketing.
What is a surprise is that neither is a Steelers fan which is interesting because Pitt shares the UPMC complex on the South Side with the NFL team.
It gets worse.
"I'm a Ravens fan," said Chris with a laugh of being a fan of the Steelers' AFC North rival. Chris explained his loyalty is to his father who became a Ravens fan when the Cleveland Browns relocated to Baltimore in 1996.
Demitrious said his favorite NFL team is the Tennessee Titans.
"Who knows? Maybe by the time I graduate, I'll convert into a Steelers fan," he said.
Last fall, the Davises were major components in Fitch's 9-1 season that included a Federal League championship in the Falcons' final season in the league.
"We have a lot of starters coming back, so I think we can do as well," Chris said.
This fall's schedule includes the Federal Leagues teams. Last fall, Fitch went 6-1 in the league, losing only to Uniontown Lake in Week 9.
Demitrious said, "We can be as good as we want to be, we have so many athletes coming back."
The quarterback said he's healed from arthroscopy knee surgery after he suffered ligament damage in the Falcons' overtime win over Willoughby South in the playoffs.
"I've been good for about three months," said Demitrious of his rehab.
That's good news for Falcons fans. As a junior, he gained more than 2,000 all-purpose yards.