Annarella: Offseason workouts paying off for Fitch
Team

| Record | Div. | Conf. |
| --- | --- | --- |
| 8/3 | Div. I | All-American Conference Gold Tier |
Fitch vs Massilon Perry

Gallery
2010 Fitch 24 - Canton McKinley 21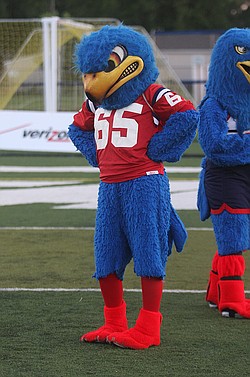 Gallery
By Greg Gulas
BOARDMAN
When Phil Annarella says his Austintown Fitch football team has put forth as much of a true effort as any team he has ever coached, you tend to listen.
In his 39th season of coaching and the architect of one state title (in 1990 with Warren Harding), Annarella believes the recent offseason set the tone for his team this fall.
Speaking to the Curbstone Coaches during Monday's weekly luncheon at Blue Wolf Banquet Center, Annarella also noted this year's squad might not be as big size-wise, but they play together as a unit and that has been most gratifying to watch.
"I told my staff recently that the talent that I had back in 1990 with Warren Harding, my grandma could have coached them and won the state title," quipped Annarella.
"Our team this year at Austintown Fitch is a group of fighters; a group of overachievers. Someone seems to step up each week and when one is down, there is always someone right there to pick them up."
Annarella also believes the new workout facility at Fitch has been a great help.
"Our weightlifting and conditioning program in the offseason has gotten us to where we are right now," he said. "The regular season is made in the offseason.
"We're not a very big team. In fact, compared to some area teams we're rather small. The training facility is beautiful and most of the equipment that we need is right there.
"We just made some minor changes to accommodate our needs and that has paid off for us. We did a study of past strength numbers and purely from a physical standpoint, this is the strongest Fitch squad since the mid-1980's," he added.
He refused to single out any player, but noted his staff preaches to remain mentally tough and overcome adversity; something his team has been able to do the first eight games.
Annarella praised his staff during his four seasons with the Falcons.
"Starting with our administration and athletic director, Rob Conklin, you couldn't ask for better support.
"Your priorities should be to hire good people first because the X's and O's always work themselves out," Annarella said.
Annarella's staff includes defensive coordinator Wally Hurdley; special teams coordinator-offensive line coach Paul Casano; defensive backs and receivers coach Alan Mikovich; running backs coach Jon Elliot; offensive line/defensive line coach Doug Barnhart; outside linebackers coach Ed Rankin and offensive line coach Joe Brooks.
Hurdley, Casano, Rankin and Brooks all have ties to Fitch while Mikovich joined Annarella after many successful seasons at Chaney under former coach Ron Berdis.
Elliot was with Annarella during his time at both Warren Harding and Niles while Barnhart played for Annarella at Warren Western Reserve.
More like this from vindy.com