Living the dream: The McCabes sign record deal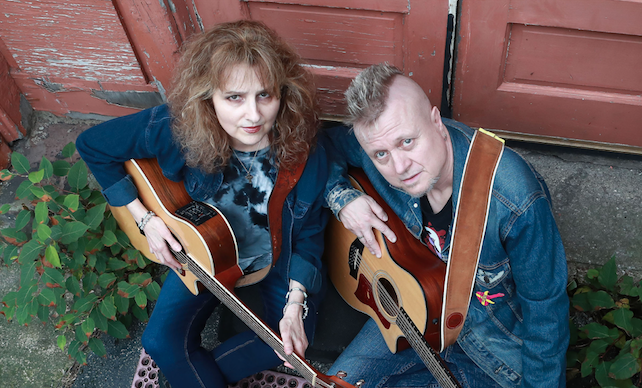 ---
The husband-wife musical duo of Terry and Diane McCabe have been living their dream, playing their acoustic, bluesy and folky music in taverns, festivals, wineries and coffeehouses for years, both locally and across the country.
But the Valley-based artists recently hit a new high by signing a deal with Raven Faith Records. Iowa-based Raven Faith recently released the McCabes' album "Dance the Dream" on all online platforms and will release another album early next year.
"It has been a long time coming but shows that you should never give up on your dream," said Terry about the record deal.
The two have been performing together since 1991 and mix original songs with covers in their act. Their faith is a part of their art, which extends to Terry's poetry and Diane's paintings.
The new album is streaming on Spotify and for sale at Amazon, iTunes and elsewhere (and also at their shows).
The McCabes next area gig will be May 11 at the Cork and Cap bottle shop in Warren.
Opera's annual cabaret will honor David Vosburgh
David Vosburgh – who is an icon of the Mahoning Valley arts scene – will by honored at Opera Western Reserve's annual cabaret on May 17 at Stambaugh Auditorium.
Vosburgh founded OWR 15 years ago and has served as its production director since day one.
A professional opera and Broadway singer in his younger years, Vosburgh has had a long and distinguished career in the arts, serving as production director of the Youngstown Playhouse, chair of the Youngstown Arts Council, stage director of many regional theater productions and as an adjunct theater instructor at Youngstown State University.
The May 17 cabaret will feature singers from past OWR productions, including Charlene Canty, Randa Rouweyha, Jonathan Stuckey, Marion Vogel, Michael Young and Misook Yun.
Guests wil enjoy hors d'oeuvres, a complementary drink as well as a champagne toast to Vosburgh. There will also be a cash bar.
Tickets are $80; call the Stambaugh box office at 330-259-0555. Proceeds will support OWR, which will present "Macbeth" on Nov. 15 at Stambaugh Auditorium.
VaLLEY band Psyclosarin to play iceland metal fest
Psyclosarin, an extreme metal band whose members are from the Salem and Youngstown areas, will be heading to Reykjavik, Iceland, in a couple of weeks to perform at the Reykjavik Metal Fest.
The band – which consists of Ian Lanney, Jonathan Benning, Aaron Gall, Brandon Swogger and David Norman – will be the only American act on the lineup. Its festival slot will be on May 17, supporting French act Benighted.
The Iceland show will be the first international concert for Psyclosarin, which will release its second album, "Archive of Chaos," this month on all major platforms. The act's first album, "Perceptions of the Damned," came out in 2016.
The next regional appearances for Psyclosarin will be May 24 at the Odeon in Cleveland, as opener for Deicide; and June 1 at the Vortex in Akron, as part of a local music showcase.
'ANNIE JR.' CAST WILL WALK RED CARPET AT THEATER
The special-needs cast of Crown Theater's production of "Annie Jr." will walk the red carpet for the opening performance at 1 p.m. Saturday at Main Street Theater in Columbiana.
There will be two special guests: Ohio Rep. Tim Ginter, who will serve as emcee, and musician Tim Baley
The performance will start at 2 p.m. All tickets are $13 and can be purchased at the door or in advance at CrownTheaterProductions.org
There will be a second performance at 2 p.m. Sunday.
Guy D'Astolfo covers entertainment for The Vindicator. Follow him on Twitter at @VindyVibe.
More like this from vindyarchives.com