Veltri masterful vs Muskegon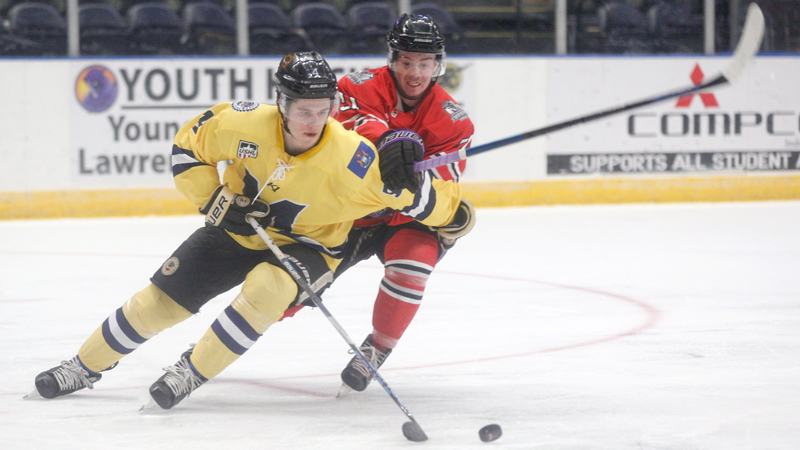 ---
The Phantoms goalie recorded his third shutout in four games
By Tom Williams
YOUNGSTOWN
Round two between the USHL Eastern Conference's hottest goalies went to the Youngstown Phantoms' Chad Veltri.
Sunday, Veltri stopped all 31 shots the Muskegon Lumberjacks fired at him in the Phantoms' 2-0 victory at the Covelli Centre. It was Veltri's third shutout in four games.
"It's crazy," said Veltri who came to the Phantoms in December after starting the season with the Sioux Falls Stampede. "I don't know if it's a sign of luck or just a sign that everything is going my way."
Defenseman Nikolai Jenson's first-period goal, his second of the season, was the game-winner.
"He's kind of eating every puck," said Jenson of Veltri, who grew up in Fox Chapel, Pa., near Pittsburgh. "It shows."
The only blemish in Veltri's recent play was Saturday's 4-3 shootout loss to the Lumberjacks where goalie Brandon Bussi stopped both of the Phantoms' shootout attempts.
"Huge — he made multiple big stops tonight," Phantoms coach Brad Patterson said. "Chad was stellar tonight."
With 4:20 remaining in the opening period, Jenson fired a shot from near the blue line that eluded Bussi. The defenseman said he didn't see the puck enter the net.
"I lost it in the scrum," Jenson said. "Joey [Abate] passed it to me and I faked a one-timer.
"We had some good net coverage, guys taking away the goalie's eyes."
The game remained a nail-biter until Bussi was lifted with about two minutes to go and Matt DeMelis scored an empty-net goal with 1:22 remaining.
Bussi, who leads the USHL with 29 wins, made 21 saves.
The win gives the Phantoms (25-18-1-4, 55 points) seven out of eight points in their past four games. They trail third-place Cedar Rapids by three points and are four points ahead of fifth-place Dubuque.
More like this from vindyarchives.com