The Marinos honored for 50th anniversary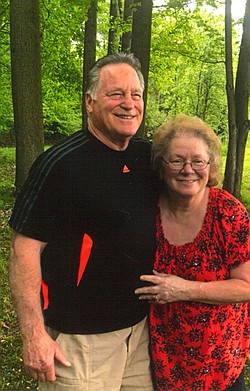 Photo
COITSVILLE
Lou and Geri Marino of Coitsville were recently honored for their 50th anniversary during a family party and renewal of vows hosted by the couple's children and their spouses, Lou (Erica) Marino of Berryville, Va.; Tony (Kumari) Marino of Cleveland; and Bob (Kim) Marino of Mount Molly, N.J.
A friend of the couple, Matt Borovic of Cleveland, performed the vow renewal.
Four grandchildren, Maliza, Gavin, Louie and Vincent Marino, complete their family.
Mr. Marino married the former Geri Torek on May 24, 1969, at Immaculate Conception Church in Youngstown.
Mrs. Marino was the zoning and township secretary for Coitsville Township before retiring in 2008. She is a member of Coitsville Seniors and Coitsville Ladies Auxiliary.
Her husband was a conductor for CSX Railroad before retiring after 37 years of service in 2004. He is the quartermaster at VFW Post 7538 in Struthers, an avid golfer and bowler and spent 30 years on the Youngstown Morra League. He also served in the U.S. Army.
The couple, who belong to St. Angela Merici Parish in Youngstown, also marked the occasion June 2 with other couples of the Catholic Diocese at a Mass at St. Columba Cathedral, also in Youngstown.