Alyssa Meier | Nathan Rech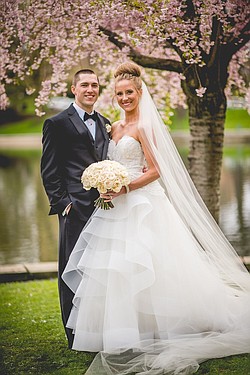 Photo
Alyssa Meier, Nathan Rech
LYNDHURST
The Rev. James Cosgrove heard the exchange of wedding vows between Alyssa Meier and Nathan Rech at 2 p.m. April 27, at Church of St. Clare in Lyndhurst.
After the newlyweds accepted congratulations at a reception in the Gold Room of the Renaissance Hotel in Cleveland, they honeymooned in England and Scotland. They live in Lyndhurst.
Mr. and Mrs. Timothy Meier of Strongsville are the bride's parents. The groom is a son of Mr. and Mrs. Timothy Rech of Lordstown.
The bride wore an ivory tulle ball gown designed with a sweetheart neckline and lace bodice with gold accents.
Ashley Muhar, sister of the bride, was matron of honor. Bridesmaids, wearing champagne-colored dresses, were Nicole Scavuzzo; Nicole D'Agostino; Olivia Scalzitti; Shaun Riddle; Abigail Smith; and the groom's sisters, Megan Rech Sueto and Emily Czeck.
The flower girls were Elliot Czeck, niece of the groom; and Peyton Blasinsky, cousin of the bride.
Jacob DiEugenio served as best man. Groomsmen were Jaka Muhar, brother-in-law of the bride; Adam Greenwood; Scott Chaffee; Galen Hayek; and Nathaniel Czeck and Michael Sueto, brothers-in-law of the groom.
The ring bearer was Cole Sueto, the groom's nephew.
Mrs. Rech graduated from the University of Pittsburgh and Kent State University. She holds a doctor of audiology degree and is an audiologist for Hear Rite in Cleveland.
Her husband graduated from Walsh University and Lake Erie College of Osteopathic Medicine with a doctor of osteopathic medicine degree. He is an orthopedic surgery resident at University Hospitals in Cleveland.