Valley Deals 365: Sam's Wedge Inn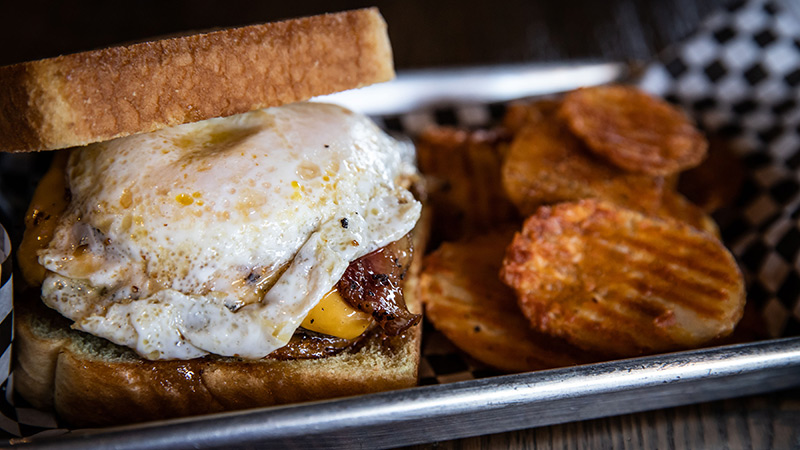 ---
Valley Deals 365 - Sam's Wedge Inn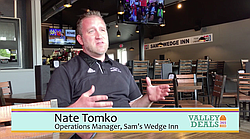 Video
An interview with Nate Tomko, Operations Manager at Sam's Wedge Inn. This video feature is from Valley Deals 365, a partnership between The Vindicator and 21 WFMJ-TV. Visit Valleydeals365.com to view this and other deals.
By Corey Crisan
In Partnership with 21 WFMJ-TV
AUSTINTOWN – A Mahoning Valley classic continues its 50-plus year legacy into a recently renovated and re-opened building. First opened in 1967 by Sam Krish, the "new" Sam's Wedge Inn keeps the tones of the original while sprinkling flavors of modernism into it.
"It's been a staple in this community," Sam's operations manager Nate Tomko said. "The idea of it still being a neighborhood bar and grille is what we're shooting for. It's not the same Sam's Wedge Inn that it was before, but it's still that place where folks in Austintown can come in, and it's a little more spacious than before."
Sam's is located in a prime spot on the corner of South Raccoon and New roads, meaning plenty of traffic passes by on any given day, no matter the direction. It is a few doors down from other Austintown hotspots like Wedgewood Pizza, Nicolinni's, and Barry Dyngles Pub.
"This intersection is very local," Tomko said. "It's not a major highway, but it is great to be where we are. … While we certainly love the competition, it's great that people come by our place."
Sam's is a single-room eatery with a capacity that is double what the old Sam's had. Walls colored with Ohio State, Youngstown State, and Austintown Fitch football memorabilia hanging up contribute to its local feel.
"The concept we were going for is some place that isn't overwhelming," Tomko said. "We cut the decor to a minimum, then we kept the design nice and simple. Something for everybody. We're very happy with the way that it turned out."
Each month, two burger designs go head-to-head in a customer-decided burger battle. On each table at Sam's, a card has the month's matchup. The winner is determined by total number of orders. The prize for the winner is a permanent spot on the Sam's menu.
"This month, we have two burgers created by staff," Tomko explained. "In the past, we had burgers created by guests, families and people who email in to us. We sit down as a group and come up with what burgers we want to keep on."
Sam's menu features a simplified build-your-own-burger option. Rather than slapping a motley of burger creations for customers to try with room for error, the customer gets exactly what they want every time.
"People this day and age love customization," Tomko noted. "They want to be able to make something exactly the way they want it. Nobody comes in here and has a bad burger because they design every burger. They're putting together the flavors that they want."
The menu at Sam's speaks to affordability. Only two items – 12 chicken wings and the cheeseburger salad – are priced over the $10 mark.
"We're certainly very aware of what the Valley is," Tomko said. "We wanted to keep everything at that $10 or lower price point – things that you'd want and have after a baseball game or after watching a football game. We're going to appeal to your kids. We're not trying to be pretentious [or] something that we're not."
Sam's Wedge Inn is open at 11 a.m. daily. For the full food and drink menu, visit samswedgeinn.com.