The Trumans honored for golden jubilee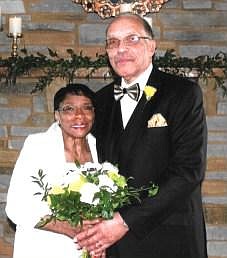 Photo
BOARDMAN
Dave and Mary Jo Truman of Boardman recently were honored for their 50th anniversary with a dinner party at Avion on the Water in Canfield, a vow renewal, and a trip to the historic African-American Museum of History in Washington, D.C. The dinner party was hosted by the couple's children, Dr. Michelle (Randy) Jones of Streetsboro and David (Resha) Truman of Liberty.
Four grandchildren, Peyton and Tariq Truman and Randi and Michaela Jones, complete their family.
The renewal of vows was conducted by minister Sheila Smith of Akron, a cousin of Mrs. Truman.
Mr. Truman married the former Mary Jo Logan on April 2, 1969, in Sharon, Pa.
Mrs. Truman, MSSA, LISW, is a retired administrator with the Mahoning County Children Services Board and part-time faculty at Youngstown State University in the social-work department. She volunteers and participates in various community organizations.
Mr. Truman is a retired detective from the Youngstown Police Department and the Youngstown State University Police Department.
The couple are members of Union Baptist Church in Youngstown.