The Sofranecs honored for 65th anniversary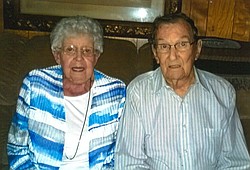 Photo
Joseph and Janet Sofranec
POLAND
Joseph and Janet Sofranec of Poland recently were honored for their 65th anniversary with a dinner party at their home.
The couple's children, James J. (Carol) Sofranec of New Middletown; Jerrold J. Sofranec of Poland; Jeffrey (Colleen) Sofranec of Warner Robins, Ga.; and John J. (Narda) Sofranec of Columbus, hosted the event.
The couple also have six grandchildren, one great-grandchild and are expecting another great-grandchild.
Mr. Sofranec and the former Janet Marie Fineran were married May 15, 1954, at St. Nicholas Church in Struthers.
Mrs. Sofranec worked as a bookkeeper at Ben's Modern Applicance in Youngstown before retiring in 1954 to raise her children.
Mr. Sofranec worked as a supervisor for LTV Seamless Tube in Youngstown before retiring in 1986. He also served in the U.S. Army during World War II. He was a Second Harvest Food Bank board member, Red Cross blood drive volunteer, BBB arbitrator for auto line lemon law and currently is a Poland pantry officer.
The couple are members of Holy Family Church in Poland.