MetroParks uses eminent domain to get land for bike trail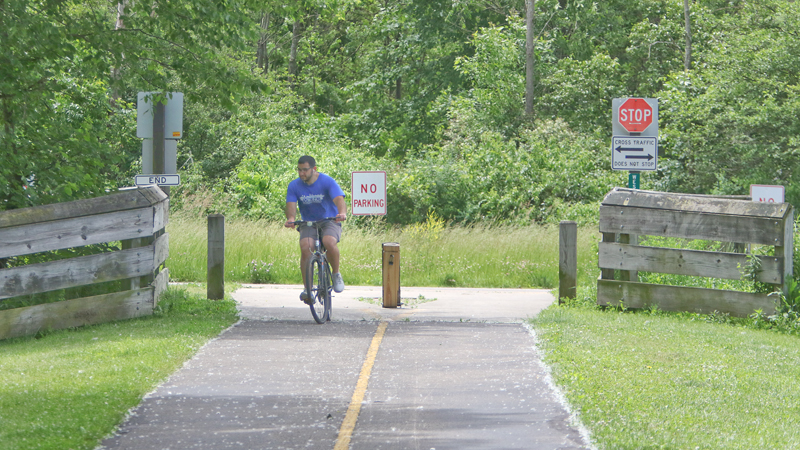 ---
By JUSTIN DENNIS
jdennis@vindy.com
WASHINGTONVILLE
The West Pine Lake Drive farm Mike Cameron's family has owned for at least five generations could be split in half by the Mill Creek MetroParks.
Cameron and his wife Barbara face one of nearly a dozen eminent domain lawsuits the park district has filed since November in Mahoning County Common Pleas Court to acquire perpetual easements to lay 41⁄2 miles of public bike path, part of a greater Greenway Trail connecting Lake Erie to the Ohio River across four counties.
A 6-acre-long proposed route would bisect the Camerons' 158 acres from north to south, putting it about the distance of a football field away from their home. The public trail would separate the Camerons' beef cows from their water source just over an eastward hill and keep the Camerons' relatives from hunting deer, turkey and sometimes pheasant on their land.
"We need to get over there because we have property that we farm – a combine needs to go over there," Barbara said.
Barbara said strangers don't end up at their farmhouse unless they're lost. From their home at the far terminus of a dead-end road, one can see wild, rolling pastures disappear into the wood line but not a single other house.
"That's the way we like it. We don't want anyone to know we're back here," Barbara said.
"When you add people to the mix, you get problems," Mike added.
The MetroParks offered a one-time $37,500 for permanent rights to the Camerons' 6 acres – Barbara estimated it's worth about $30,000 – meaning though the MetroParks could run the trail, the Camerons could still be responsible for upkeep and liable for anything that happens to bikers.
The Camerons' livelihood is animal husbandry – once dairy cows, but now they're transitioning to beef, they said. They currently have one bull they're afraid to put out as park surveyors regularly tour the area. They wonder what could happen when strangers begin jaunting by.
"It's a huge liability," Mike said, later adding he'll likely have to insulate his land by building new fencing along both sides of the trail.
"I'd rather have them buy it if that's the way it's gonna' go. I'd rather have them not here at all," he said. "They're using our [tax] money to take our land."
Barbara said she and Mike offered land near the perimeter of their property for the MetroParks trail, but were turned down.
With the only other entry points to the Camerons' portion of the trail a quarter- to a half-mile away, Mike roared a belly laugh when considering contractors hired by the MetroParks to clear and construct the trail will likely want to use his driveway – a treacherous span of blasted, washed out and uneven stone and dirt.
"It's that way for a reason," he grinned.
Aaron Young, MetroParks executive director, declined to comment on the Camerons' claims, as the parks' lawsuits are still being mediated.
The nearby Beaver Creek Sportsman's Club along Washingtonville Road is also in litigation with the MetroParks for two parcels of its property.
Tom Brunner, the club's vice president, said he's not actively involved with the lawsuit but knows a nearby public trail could bar the club's about 150 members from shooting outside the club building and restrict shooting at its indoor range.
Though the club is worried about losing access to property frontage on the roadside with the proposed trail, zoning officials have told them the club can't be denied access to its own frontage, he added.
The MetroParks is offering a one-time $13,325 for a perpetual easement on the two club-owned parcels, according to the lawsuit. Brunner said that amount wouldn't even cover two years' worth of additional insurance the club would need.
The club and the Camerons share the same Columbus-area eminent domain attorney, who could not immediately be reached for comment Friday.
Diane Less, director of Angels for Animals in Canfield, stands to lose 6 acres of "beautiful, wooded property" from her South Range Road property, as well as her access to state Route 165.
Less filed a response May 30 disputing nearly every line of her MetroParks suit, as well as the MetroParks' authority to appropriate property for anything but expansion of forest reserves and conservation of streams, lakes or swamplands, according to court records.
The response also claims an existing bike trail runs less than 1 mile from Less' farm, which the MetroParks' proposed trail doesn't include even though it's parallel, and that the proposed trail would divide township lines, creating a "never-ending park district that could appropriate and extend into any area of Mahoning County," among other defenses.
"The bike trail is coming," Brunner said resignedly. "It's just the bottom line. We're just another one of the pieces of the puzzle. It's coming.
"It doesn't matter how much fighting we do. They're going to have so much money."
Mike said he and his wife have consulted with several attorneys about fighting eminent domain suits.
They told them "you ain't gonna' beat eminent domain. There's no way out."
"But we're trying," Barbara said with a smile.
More like this from vindyarchives.com