YSU player gets ready for 6th college season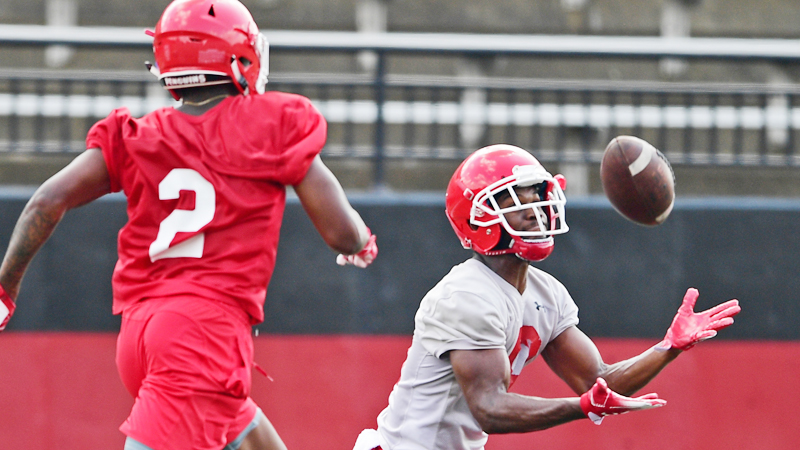 ---
By BRIAN DZENIS
bdzenis@vindy.com
YOUNGSTOWN
Two days into fall camp and Justus Reed has been dubbed the grandpa of the team.
The name fits because he already sports a beard. It also fits because the two-time redshirt-junior defensive end is beginning his sixth season in college football and his third at Youngstown State.
During the offseason, Reed was granted a sixth and seventh year of eligibility from the NCAA after tearing his Achilles tendon during the summer before the start of fall camp in the 2018 season. The timing of that injury is why Reed can still be considered a junior in 2019.
"They actually gave me two and I was completely surprised by that," Reed said. "It really is a blessing. It's something I've prayed about with my friends and family.
"I got lucky, I guess."
Should he stay through the 2020 season, he would become the longest-tenured football player in terms of eligibility at YSU. Right now, he's tied with former Penguins wideout Jelani Berassa, who redshirted twice while playing for YSU from 2009 through 2013 after suffering two season-ending knee injuries.
Reed's career stretches back to 2014, when he redshirted during his freshman season at Florida. He played two more seasons with the Gators before transferring to YSU.
"I thought it was going to be two [years] and then I was done," Reed said.
A shoulder injury limited Reed to seven games, but he showed what he can bring to the Penguins. He tied the team lead in sacks with five – one of which was a strip sack he returned for a touchdown – and was second on the team in tackles for a loss with 5.5 as a situational pass-rusher. He also made the Missouri Valley Football Conference's All-Newcomer team.
His absence was noticeable during YSU's 4-7 campaign. The Penguins used a rotation of four defensive ends to try and make up for the loss. Reed's return, plus the returning experience from seniors Shereif Bynum and Ma'lik Richmond and sophomore Antoine Cook make for an optimistic head coach in Bo Pelini.
Pelini on Monday also pointed out that sophomore James Jackson, who played sparingly last year, has been impressive in camp.
"He's a really good football player. The guys respect him," Pelini said of Reed. "We've got a lot of guys who can play that position. We have really good depth there and I like the depth on our defensive line."
Reed is set to graduate with a degree in communications in December. He now has plenty of time to rack up sacks for the Penguins.
"I'm going to do what ever I can do to make this team better and get us back to where we're supposed to be," Reed said of what he'll. "We have a winning tradition here and we need to get back to that.
"We're going to be dirty," Reed said. "That means we'll be really good."