Libby Rogenski | Jeremy Mitchell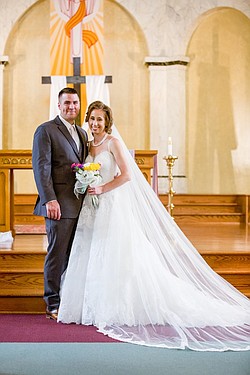 Photo
Libby Rogenski, Jeremy Mitchell
YOUNGSTOWN
St. Angela Merici Church in Youngstown provided the setting for the 2 p.m. June 1 wedding of Libby Rogenski and Jeremy Mitchell who later received congratulations during a reception at The DeBartolo Stadium Club at Youngstown State University. The groom's brothers, the Revs. Jason and Michael Mitchell officiated for the ceremony.
The bride is a daughter of Becky Rudzik and Mark Rogenski of Poland.
Tom and Tammie Mitchell of Oil City, Pa., are the groom's parents.
After a honeymoon in Ireland, the couple reside in Atwater.
A gown featuring a sweetheart neckline, lace overlay and spaghetti-straps was worn by the bride. A matching cathedral-length train completed her ensemble.
Ellie Rogenski, sister of the bride, was maid of honor. The bride's attendants were Brittany Stockmaster; Ashley Smith, the bride's sister-in-law; Marik Rogenski, brother of the bride; and Jake Wood.
Flower girls were Gwen Meyer, and Lily and Olivia Mitchell, the groom's nieces.
Joe Mitchell, the groom's brother, served as best man. Groomsmen were Peter Mitchell, the groom's brother; Thomas Hepler; Michael Manssur; and Andrew Kline, the groom's brother-in-law.
Mrs. Mitchell graduated with bachelor's degrees in mechanical engineering, physics and astronomy from YSU. She is a technology and innovation engineer for Goodyear Tire and Rubber Co. in Akron.
Mr. Mitchell is the owner of Best Exterior Solutions Today and a volunteer firefighter in Akron.