The Ferrises celebrate anniversary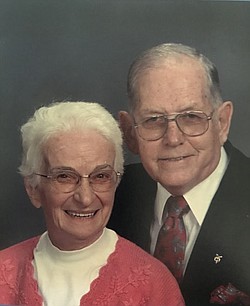 Photo
CANFIELD
Dean and Dolores Ferris of Canfield recently were honored during a family dinner at the Kennsington Grille in Canfield for their 50th wedding anniversary.
The couple's children are Sharlene (Chris) Sipple of Canfield; Clifford (Mary Jo) Sinn of Austintown; Deborah (John) Cotton of Canfield; Leslie Griffith of Michigan; Robin Russo, also of Michigan; Ted (Joan) Ferris of Columbiana; and the late Carolee Daroux. Thirteen grandchildren, 22 great-grandchildren and three great-great-grandchildren complete the family.
Mr. Ferris married Dolores Sinn on July 11, 1969, in Chardon.
Mrs. Ferris retired from Youngstown City Schools in 1991 and is enjoying retirement. She has been active with swimming, ice skating and clog dancing.
Mr. Ferris is a retired lawyer and longtime member of the Masons, the Shrine, the Grotto as one of the clowns, and the Optimist Club.
The couple traveled whenever possible and have visited much of Europe and Australia, New Zealand and Hawaii.