Numbers Brewing Co. continues to expand its reach
Numbers Brewing Co.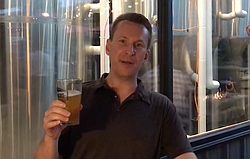 Video Set
IF YOU GO
Establishment: Numbers Brewing Co.
Address: 127 N. Beaver St., Lisbon
Website: numbersbrewco.com
Hours: 4 to 10 p.m Wednesday and Thursday; 3 p.m. to midnight Friday; Noon to midnight Saturday
Available: Flights, pints, growler fills, cans, full bar, food menu and merchandise
By Jim Cyphert,
Mahoning Valley Flight Crew
Numbers Brewing Co., at 127 N. Beaver St., has found the right formula for success.
Founded in 2016, the brewery experienced its best year in 2018. When 2019 is a wrap, Numbers will have seen an increase in capacity, production, distribution sales and on-premises brewery sales.
There's plenty of room for growth, according to Brock Beatty, one of Numbers' owners, along with Jeramy DeBord, and Nate and Julie Vrable.
"Our goal is to expand our footprint in Ohio," said Beatty. "Right now, we have about 10 percent of Ohio covered. We're working on increasing that in 2019 and beyond."
Since opening its new production brewery earlier this year, Numbers has grown steadily. A deal with Wine & Beverage Merchants, a Weirton, W.Va., distributor, has helped the brewery expand distribution of six packs of cans throughout much of Ohio's neighboring state.
Numbers is now available in kegs and cans at more than 200 locations in Ohio and West Virginia, with more to come. The brewery self distributes in Ohio.
A major factor in Numbers' success has been its 22 Blood Orange, a citrusy, smooth-drinking ale that's the brewery's best seller.
"We're proud of what 22 Blood Orange has done for us," Beatty said. "It's helped increase awareness about Numbers and what we're doing here in Lisbon."
An important factor in increased business at Numbers' Lisbon brewpub was the addition of a large patio in 2018. It's one of the largest, most customer-friendly patios in the Mahoning Valley.
"Our business has grown exponentially since we added the patio and the production brewery," Beatty said.
Numbers has invested significant time and effort into community events, such as the Firecracker Beer Mile held annually on the Fourth of July. The next big event, Numbers' 4th Annual Block Party, will be Aug. 24.
Beatty never expected Numbers to be where it is today.
"This was never part of the plan," he said. "We never imagined we'd be here when we started home brewing in the basement seven years ago."
Beatty said there's room for improvement in Numbers' beers.
"We've made some really good beers," he said. "But we haven't made a great beer yet."
In the meantime, the Flight Crew will continue sampling Numbers beers. We enjoyed doing just that on our most recent visit with Beatty and Randy Schneider, who handles Numbers' marketing and community relations efforts.
Here are the Numbers beers we liked best:
Zero Hour Black IPA (7.5% ABV)
Roger Gillespie: "OK, this is not your father's IPA. So dark and so smooth. Zero Hour offers a bit of a burnt taste with a really sweet aroma. It carries a 7.5 percent ABV and a super-subtle 90 IBU. It's a great beer to enjoy with a fine cigar next to the fire pit. Thank you, I'll have another."
643 Double Play (5.2% ABV)
Dave Shively: "When it comes to deciding which craft beer to try, the name has almost as much influence as the style. On this night, my affinity for the game of baseball guided me in the direction of the brewery's 643 Double Play. Any fan of baseball knows that a double play is achieved when two outs are recorded during a single defensive play, which can be demoralizing when it happens to your team. But there was nothing demoralizing about the 643 Double Play. This beer is best described as having low maltiness and mild hoppiness, which are both general characteristics of an American-style IPA. The clean, crisp finish and relatively low 5.2 percent ABV, made this beer the perfect companion to enjoy alongside my order of Grilled Chicken Cheddar Jack Quesadillas – the perfect ballpark fare."
22 Blood Orange (5.1% ABV)
Brian Long: "22 Blood Orange is Numbers Brewing Co.'s flagship beer. Having had a few pints of this over the years, it can be a dark ruby color or a deep, hazy raspberry color. Either way, one thing it has is the strong aroma of citrusy orange and grapefruit. It's an extremely refreshing, smooth, fruity ale that's welcoming to both new and experienced craft beer lovers. Keep your eyes "peeled" as this beer can be found in six packs locally and in West Virginia."
Tropical Session IPA (4.2% ABV)
Joe Sanfilippo: "With summer upon us, this tropical Session IPA is perfect for really hot days. This one's an easy drinker with a tropical twist to it. It checks in at 4.2 percent ABV, which makes it perfect for sipping by the pool or at the beach. If you're looking for a good beer to relax with, this is it."
7 Lazy Hazy (7.2% ABV)
Jim Cyphert: "Good things come to those who wait. Sometimes they come to those who develop good ideas quickly. The latter is what happened for Numbers with 7 Lazy Hazy. Brock said this beer got its name because the recipe was developed in only seven minutes, hence the lazy, and it's got all the flavor of a typical hazy IPA. I love my hazy IPAs, and this one's flavor doesn't disappoint. It's Numbers' first foray into hazy IPAs, and I expect good things to come as experimentation continues."
414 Stout (5.8% ABV)
Jason Jugenheimer: "I might be a bit of a beer outlier. While I always love IPAs, Sours, Goses and other 'summer' beers, I also love to drink a Stout when the weather is hot and hazy. Especially one that drinks lighter than you expect. This revved up Milk Stout is numbered after owner Brock's son's birthday and race number. It's a slick combination of roasted malts, flaked oats, cocoa nibs and lactose sugar that creates a silky smooth mouthfeel and slightly sweet finish. Yet, it's extremely light bodied. This is definitely a warm-weather beer."
Recommended Flight Pattern: Head to Lisbon to see why Numbers Brewing keeps trending up.