Heat, humidity equal tough days ahead in Valleys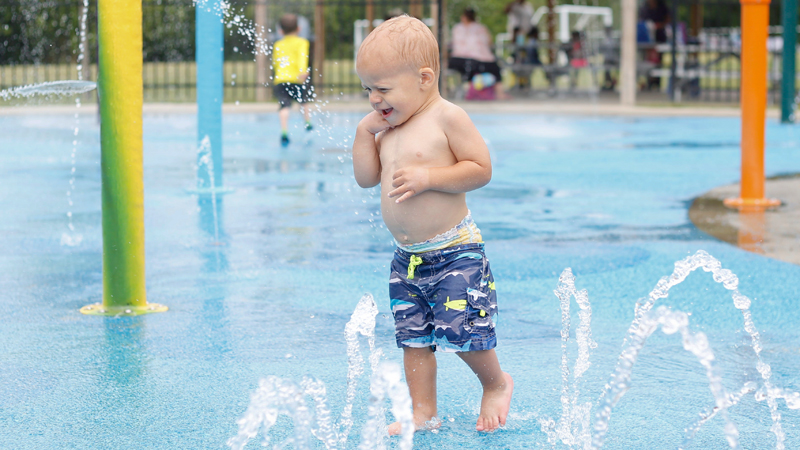 ---
By SAMANTHA PHILLIPS
sphillips@vindy.com
YOUNGSTOWN
Soaring temperatures coupled with high humidity will make these next few days unpleasant for many in the Mahoning and Shenango valleys.
The National Weather Service advises of an excessive heat watch in effect from noon Friday to noon Saturday, with the heat index, which indicates what the temperature feels like, spiking to 105 degrees as temperatures hover in the 90s with dew points in the lower 70s.
This weather isn't unusual for summer, but it's a good time to remind folks to stay safe.
That's what the American Red Cross Northeast Ohio Region is doing.
"I don't think many people realize how many heat-related deaths there are in the United States," said Jim McIntyre, the Red Cross Northeast Ohio Region communication director.
The International Federation of Red Cross and Red Crescent Societies warned this week that heat waves are "one of the deadliest natural hazards facing humanity" and "will only become more serious and more widespread as the climate crisis continues."
That's why "the Red Cross is urging people to take precautions before the heat strikes," McIntyre explained. "The most important thing is to be aware, know what the forecast is calling for, how high the temperatures are supposed to get so you can make a decision on whether to stay in your home or seek shelter in an air-conditioned building like a library."
In Mahoning County, the New Middletown Municipal Building Council Chambers will serve as a cooling center during the heat wave by calling the police at 330-542-2234. People can also bring their pets as the building has an indoor kennel.
Dr. Denise Bobovnyik with Mercy Health Canfield Primary Care warns residents to be mindful of heat-related illnesses like heat stroke, which can be fatal if a person has prolonged exposure to heat. Elderly people and children are especially at risk.
"Your temperature becomes elevated, we usually say 104 degrees [Fahrenheit] is heat stroke. There's an increase in heart rate, so your pulse level will be fast; you may have a drop in blood pressure, so you may be light-headed and feel faint. Then you can become confused or go into a coma."
Call paramedics if you suspect someone is having a heat stroke and their skin is hot to the touch, they re unable to sweat and act confused.
Heat exhaustion is common during heat waves, Dr. Bobovnyik said. It's a state before heat stroke.
"People become weak," she said. "Their skin is still cool and wet whereas with heat stroke their skin is red hot because they can't dissipate the heat. Their mental capacities decrease. We use the actual temperature to gauge whether it's heat exhaustion or heat stroke."
If someone exhibits those symptoms, take their temperature and put them in a cool area.
"Within 20 minutes you can tell if it's going to progress of if they are safe and improving," she said.
Dr. Bobovnyik recommends staying well-hydrated, because when humidity is more than 60 percent, as it's forecasted to be, it becomes harder for the body to cool itself by sweating.
The Red Cross also recommends avoiding caffeine and sugary drinks, which can cause dehydration.
"Be cautious, slow down, if you have to work outside make sure you take plenty of breaks," McIntyre advised. "Make sure you are paying attention to your pets. Make sure they aren't suffering from the heat, that they have respite."
It's important to check on family and friends who don't have air conditioning, especially if they are elderly.
Here are some other tips recommended by the Red Cross:
Listen to local weather forecasts and stay aware of upcoming temperature changes.
Check the contents of your emergency disaster kit in case a power outage occurs.
Choose places you could go for relief from the heat during the warmest part of the day.
Never leave small children or pets alone in enclosed vehicles.
Eat small meals and eat more often.
Wear loose-fitting, lightweight, light-colored clothing.
Postpone outdoor games and activities.
Get trained for first aid, learn how to treat heat-related emergencies.