Sabrina Kelly-Wright | Charles Krause Jr.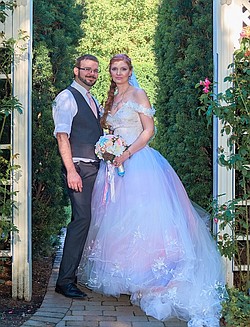 Photo
Sabrina Kelly-Wright, Charles Krause Jr.
YOUNGSTOWN
Sabrina Kelly-Wright became the bride of Charles Krause Jr. during a wedding ceremony June 21 at the Kidston Pavilion in Fellows Riverside Gardens in Mill Creek MetroParks. Officiant for the 4:30 p.m. ceremony was the Rev. MeLissa Tanner.
The newlyweds accepted congratulations during a reception in the Daniel L. Rossi Auditorium of the D.D. and Velma Davis Education & Visitor Center at the gardens.
Craig and Jonnie Wright of Youngstown are the bride's parents.
The groom is the son of Charles Krause Sr. and Jennifer Martin, both of Youngstown.
After a honeymoon to North Carolina and Tennessee, the couple reside in Youngstown.
The bride's gown was designed with drop-shoulder straps. The skirt featured a rainbow pastel underlay accented by crystal and pearl butterflies infused with floral details. A matching veil completed her ensemble.
England Wallace was man of honor, and Catrina Hartsock was matron of honor.
Bridesmaids, wearing pink and blue floral dresses, were the bride's aunt, Stephanie Sopkovich, and Tiana Cuevas, the groom's sister.
The bride's uncle, Carl Sopkovich, served as best man.
The groom's attendants were Cassandra Martin, cousin of the groom; Walter Hartsock; and Thomas Sopkovich, the bride's uncle.
In keeping with the "Midsummer Night's Dream" theme, Lyn Wyant, cousin of the bride; Kaitlin Varkonyi; and Carrie Gray, were "fairy" attendants.
Mrs. Krause graduated from Youngstown State University with a bachelor's degree in history. She is a guide for the Mahoning Valley Historical Society.
Mr. Krause is a culinary associate at St. Elizabeth Youngstown Hospital after attending YSU.