Michelle O'Connor | Michael Thomas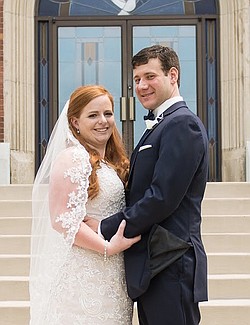 Photo
Michelle O'Connor, Michael Thomas
GIRARD
Monsignor John Zuraw solemnized the 1:30 p.m. June 1 wedding ceremony of Dr. Michelle O'Connor and Michael Thomas at St. Rose Church in Girard. A reception took place at Drake's Landing Banquet Center in Canfield.
Michael and Donna O'Connor of Austintown are the bride's parents.
The groom is a son of Raymond and Debra Thomas of Youngstown.
The bride wore an ivory gown made of lace and tulle over regency organza with illusion lace over a sweetheart neckline. The gown was designed with a plunging V-back and a scalloped-lace hem that flowed to a formal train. A cathedral-length veil trimmed with floral lace completed her ensemble.
Meredith Loncar was matron of honor. Bridesmaids, wearing turquoise dresses, were the bride's sister, Melissa O'Connor, and Katie Fabrizio, Mallory Nims, Eruj Arif and Deanna Mahood. The bride's cousin, Brianna Norman, was junior bridesmaid.
Ruby and Mabel Thomas, the groom's nieces, were flower girls.
Julian Chalifoux served as best man. Groomsmen were James Thomas, brother of the groom; Benjamin Smith; Barry Hinchliffe; Greg Sauline; and Thomas Bigley. The groom's nephew, Kent Thomas, was ring bearer.
Dr. O'Connor graduated with bachelor's degrees in biology and psychology from Youngstown State University. She earned a master's degree in education and a doctorate in psychology from Duquesne University. She is a psychologist at Community Mental Health Agency in Cleveland.
Mr. Thomas graduated from YSU with a bachelor's degree in business administration and is an audio technician in Cleveland.
After honeymooning in Hawaii, the couple reside in Cleveland.