The Sulenskis celebrate their golden jubilee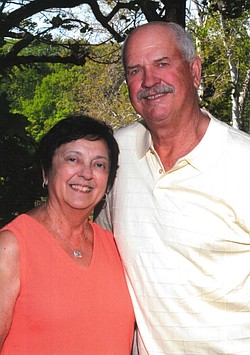 Photo
William and Joann Sulenski
AUSTINTOWN
William and Joann Sulenski of Austintown recently were honored for their golden anniversary during a dinner party at Drake's Landing in Canfield.
The couple's children are Matthew (Leslie) Sulenski of Chelsea, Ala., and Dana (Rodrigo) Menendez of Aurora, Ill. Their four grandchildren complete the family.
Mr. Sulenski married the former Joann Stofac on Aug. 2, 1969, at St. Columba Cathedral in Youngstown.
Mrs. Sulenski is a registered nurse and worked at various hospitals, 27 years of which she worked at Austintown Ambulatory Surgical Center. She later spent six years at the Mahoning County Career & Technical Center as a medical coordinator for adult education classes until retiring in 2014. She is a member of the Austintown Optimist Club, Austintown Junior Women's League and other organizations.
Mr. Sulenski was a teacher at Austintown Fitch High School until he retired in 2006. He is a member of the Austintown Optimist Club, Knights of Columbus, Lake Milton Boat Club and the Lake Milton Association.
The couple are members of Immaculate Heart of Mary Church in Austintown.