Lisa Navarro | Alex Barnes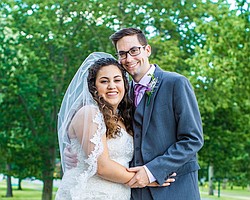 Photo
Lisa Navarro, Alex Barnes
BOARDMAN
St. Charles Borromeo Church in Boardman was the setting for the 1:30 p.m. July 27 wedding of Lisa Navarro and Alex Barnes. The Rev. Gerald DeLucia was the officiant, and an evening reception took place at Mr. Anthony's Banquet Center in Boardman.
Nelson and Mary Ann Navarro of Youngstown are the bride's parents. The groom is a son of Jeff and Suzanne Barnes of Strongsville.
After a honeymoon in Mexico, the couple reside in Cleveland.
The bride wore an ivory, mermaid-style gown adorned with lace and beading.
Sarah Balderson, the bride's sister, was matron of honor. Bridesmaids, wearing purple and lavender dresses, were Erin Navarro, the bride's sister-in-law; Gianna Marinucci; Emily Bodamer; Joelle Thomas; Alexis Burns; Claire McCarthy; and Katie Gstalder.
Ella Navarro, niece of the bride, and Olivia Barnes, niece of the groom, were flower girls.
The groom's brother, Brian Barnes, served as best man. Corey Barnes, the groom's brother; Nelson Navarro, brother of the bride; John Ross; Michael Prijatel; Peter Russo; Alex Moore; and Zach Haldeman were groomsmen.
The bride's nephews, Nelson Navarro and Lucas Balderston, served as usher and ring bearer, respectively.
Mrs. Barnes graduated from Ohio State University with a bachelor's degree in business, operations and logistics. She is a black-belt consultant at Cardinal Health.
Mr. Barnes graduated from Ohio State University and earned a master's degree from Ohio Dominican University. He is a physician assistant at the Cleveland Clinic.