Kara Mistovich, Robert Colbert are engaged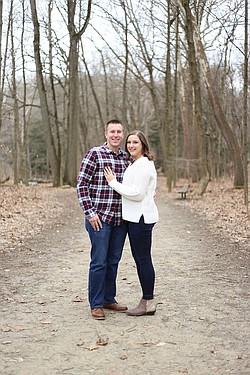 Photo
Robert Colbert II, Kara Mistovich
BOARDMAN
St. Michael Byzantine Church in Campbell has been chosen as the setting for the Jan. 18, 2020, wedding of Kara Mistovich and Robert Colbert II, both of Boardman, whose engagement is being announced by the bride-elect's parents, Joseph and Andrea Mistovich and Karen and Eric Lindberg, all of Boardman.
The prospective groom is the son of Robert and Debi Colbert and Liz Colbert, all of Boardman.
The ceremony will take place at 1:30 p.m., and a reception will follow at Drake's Landing in Canfield. Invitations will be extended for both events.
Miss Mistovich graduated with a master's degree from Youngstown State University and is a social worker at Mercy Health – St. Elizabeth Youngstown Hospital.
Mr. Colbert graduated from YSU with a bachelor's degree. He is the owner of Bob's Lawn and Landscaping LLC in Boardman.