Jionna Bodrick, Coyá Gillins set November rite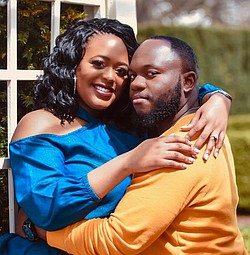 Photo
Jionna Bodrick, Coyá Gillins
Mr. and Mrs. Jerry A. Bodrick are announcing the engagement of their daughter, Jionna Nicole Bodrick of Canfield, to Coyá Davone Gillins of Boardman. The prospective groom's parents are Mr. and Mrs. Anthony Gillins.
The couple will be married Nov. 2 at Mount Calvary Pentecostal Church in Youngstown. Invitations will be extended.
Miss Bodrick earned a master's degree in social work from Youngstown State University. She is a licensed social worker for the Behavioral Health Institute at Mercy Health – St. Elizabeth Youngstown Hospital.
Mr. Gillins is a transportation security officer for the Department of Homeland Security after earning a bachelor's degree in liberal arts and social sciences from YSU.