Chantel Fusco | Timothy Markulin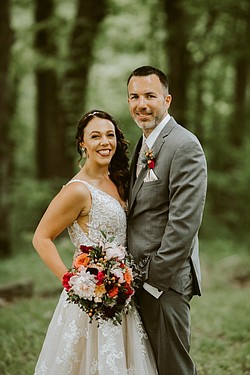 Photo
Chantel Fusco, Timothy Markulin
YOUNGSTOWN
Trinity United Methodist Church in Youngstown was the setting for the 2:30 p.m. May 25 wedding of Chantel Fusco and Timothy Markulin, which was officiated by Pastor Greg Calko.
William Fusco of Lake Milton and Jeanette Giampietro of Coitsville are the bride's parents. The groom is a son of Richard and Theresa Markulin of Canfield.
After traveling to Punta Cana, Dominican Republic, for their honeymoon, the couple are making their home in Diamond.
Ashley Fusco, the bride's sister, was maid of honor, and her niece, Harper McBride, was flower girl.
Yianni Kalouris performed the duties of best man, and Mitchell Wollam, the bride's nephew, was ring bearer.
Mrs. Markulin graduated from Kent State University with a bachelor's degree in nursing. She is a procurement transplant coordinator at Lifebanc in Cleveland. She will pursue a master's in that field at KSU in the fall in the family nurse-practitioner program.
Mr. Markulin earned a bachelor's degree in manufacturing engineering at KSU. He is a system operator at Ohio Edison in Fairlawn.