Learning early literacy skills at the Poland library

Photo
Neighbors | Jessica Harker .Librarian Vicky Puhalla read to children gathered at the Poland library August 15 for the weekly Baby Brilliant event.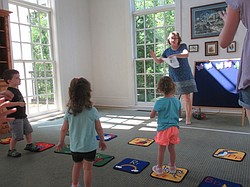 Photo
Neighbors | Jessica Harker .Toddlers danced along with Librarian Vicky Puhalla as she sang butterfly themed songs at the Poland library on Aug. 15.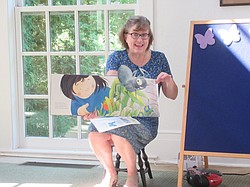 Photo
Neighbors | Jessica Harker .Vicky Puhalla, a children's librarian at the Poland library, read to children aboout bugs at the weekly Baby Brilliant event on Aug. 15.
By JESSICA HARKER
The Poland library hosted its weekly baby brilliant event on Aug. 15.
Librarian Vicky Peck hosted the event for babies ages 6-23 months and their family members.
"It's a way for children and their families to learn early literacy skills," Peck said.
During the event, five children listened to Peck as she read stories and sung songs designed to enhance early literacy skills and word comprehension.
Parents and guardians were encouraged to participate as well, helping the toddlers sing and dance along with Peck.
"It's fun, we do a lot of different activities, and it can be very beneficial," she said.
Each baby brilliant event is set to a different theme.
The theme of this event was butterflies, with Peck reading stories like "The Very Hungry Caterpillar" and "Butterfly Butterfly."
At the end of the event children worked on a craft, using colored paper and glue to create a butterfly mosaic.
For more information on this or other upcoming library events, go to www.libraryvisit.org.