Boys basketball program thanks community with cookout
---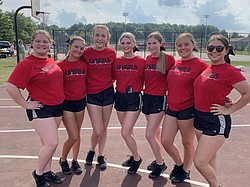 Photo
Neighbors | Submitted.Canfield High School basketball cheerleaders were on hand at the Canfield Boys Basketball Boosters Community Cookout to pump up the crowd on Aug. 20.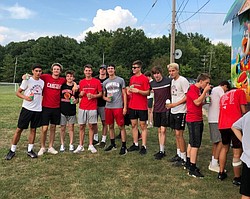 Photo
Neighbors | Submitted.Members of the Canfield High School boys basketball teams gathered at the Canfield Boys Basketball Boosters Community Cookout to enjoy some time with each other and members of the community on Aug. 20.
By ABBY SLANKER
The Canfield Boys Basketball Boosters hosted its third annual Canfield Basketball Community Cookout on Aug. 20. The free event took place at the Canfield High School outdoor basketball courts and featured the CHS boys basketball players.
According to Boys Varsity Basketball Head Coach Todd Muckleroy, the event gives the basketball program a chance to thank the community for all their support in an informal setting.
"The concept of our community cookout is that it is informal and people can come and eat and talk to each other. We have our basketball schedules available for everyone and registration for our other programs for our younger kids. This event kind of puts an end cap on our summer and our team members can show their faces to the community and talk to them in this informal setting," Muckleroy said.
Along with the boys basketball players in grades 9-12, many younger players were on hand.
"This also gives our players a chance to interact with the younger players here tonight. That's what it's all about," Muckleroy said.
The Canfield High School boys basketball cheerleaders were also on hand to pump up the crowd.
Many athletes from other sports programs turned out to support the basketball team.
The evening featured a half court shooting challenge and a few friendly games between the basketball players. Information about the upcoming 2019-20 basketball season and events that will be occurring during the season was provided for those interested in learning more.
Members of the boosters sold the 2019-20 season sweatshirts and T-shirts during the event as well.
Attendees could also play corn hole while enjoying a dinner of burgers, chips and cookies, provided by Fusco Grill and Go. Kona Ice was provided, courtesy of the Boys Basketball Boosters.