Ashley Smith | Joseph Mitchell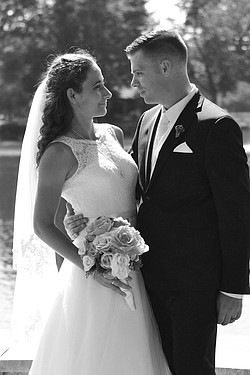 Photo
Ashley Smith, Joseph Mitchell
FARRELL, PA.
Our Lady of Fatima of Farrell, Pa., was the setting for the July 13 wedding of Ashley Smith and Joseph Mitchell. The couple were united in marriage during a 1:30 p.m. ceremony officiated by the Revs. Jason and Michael Mitchell, brothers of the groom. A reception followed at The Corinthian Banquet Hall & Event Center in Sharon, Pa.
Aaron and Beth Smith of Newark are the bride's parents, and the parents of the groom are Tom and Tammy Mitchell of Cranberry, Pa.
After a honeymoon in Switzerland, the couple reside in Austintown.
The bride wore a classic A-line gown featuring a sweetheart neckline covered with lace and a long tulle skirt. A satin-ribbon belt and a finger-tip length, dual-layered veil with lace borders completed her ensemble.
Kristi Yazvac and Katelyn Kridler were maids of honor. Bridesmaids, wearing mint green dresses, were Libby Rogenski Mitchell, the bride's sister-in-law; Michelle Kline, sister of the groom; Katrina Brumfield; and Jordan Edgell.
Flower girls were Stella, Ani and Lola Dorohoff, cousins of the bride.
Thomas Hepler served as best man. Groomsmen were Peter Mitchell, brother of the groom; Andrew Smith, the bride's twin brother; Jeremy Rogenski Mitchell, brother of the groom; Andrew Kline, the groom's brother-in-law; Ben Mitchell, the groom's brother; and Michael Manssur.
Dimitri Dorohoff, the bride's cousin, was ring bearer.
Mrs. Mitchell graduated from Youngstown State University with a bachelor's degree in English secondary education and a master's in English. She teaches English at Austintown Fitch High School.
Mr. Mitchell is a contractor sales representative at 84 Lumber in Brookfield.