Sweet Grace Anna's is one sweet bakery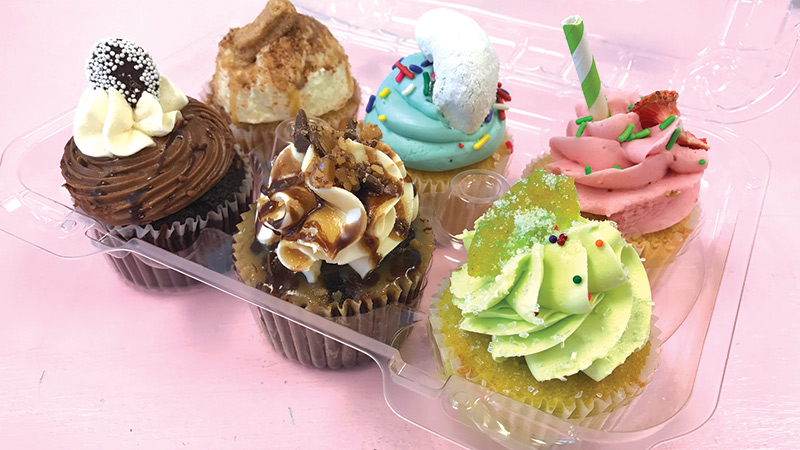 ---
Valley Deals 365 - Sweet Grace Anna's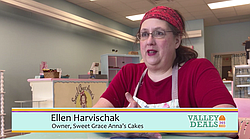 Video
$20 voucher for $10
Sweet Grace Anna's
6534 South Avenue, Boardman
Open 11 a.m. Wednesday-Saturday
Designer cakes, cupcakes, macarons, pastries
ValleyDeals365.com
Watch our interview with Sweet Grace Anna's Owner Ellen Harvischak on vindy.com/valleyfood
By Corey Crisan
In Partnership with 21 WFMJ-TV
BOARDMAN – Ellen Harvischak shifted from French teacher to nationally famous baker and cake designer in a matter of 11 years. Her general curiosity and enjoyment for baking turned into lessons on cake decorating, which led to history with her own shop branded with her daughter's namesake.
"I just became obsessed with it," Harvischak, who opened her first cake shop in 2005 with her husband Devin, said. "I made my own wedding cake, and after that, people loved it. I started making cakes for people and we started our business."
Harvischak's designs range from assorted cupcakes to smaller cakes, all the way up to grand wedding cakes. Layers of homemade butter icing are molded to the customer's preferred design, ranging from tool boxes, to guitars, to poker tables and cartoon characters as featured on her website. The business is largely based on individual orders but customers can walk in at any time to grab a quick treat from the Sweet Grace Anna's pastry case.
"We try really hard to look and taste good," she said. "We feel the most important thing is the taste, and looks are secondary to the taste, but we also feel that people eat with their eyes, so we try to make things look as appealing as possible."
Decorating cakes versus decorating cupcakes depends on the design. Some cupcakes available for purchase at Sweet Grace Anna's include churro, lime margarita, and 'Better than Sex' – a combination of toffee, chocolate and caramel on a chocolate cake base.
There's lots of different things that you can do," she said. "We look at people's parties and what they're doing. You really have to get a good, smooth base icing, and we really have to do art ahead of time and let it dry. When we do that, we end up putting the art on the cake once we decorate around the cake."
Ellen and Devin competed in and were champions of an episode of 'Cake Wars' on Food Network in 2016. They had to bake a themed cake from scratch in one hour and fifteen minutes. The end result – and the winner, was a Transformers-themed cake.
"It was a crazy moment of time," Ellen said. "We really didn't anticipate winning that show. We thought there were some people on there who were going to win for sure. Things happened to their designs that didn't work out for them. It was pretty exciting and unbelievable, but still a stressful kind of situation. It caught us off guard. We had no idea we were going to win that yet."
Sweet Grace Anna's is open Wednesday through Saturday at 11:00 a.m. and is closed Sunday through Tuesday. To view photos of Ellen's cake and cupcake designs and more information, visit sweetgraceannas.com.