Katie Arden, Jim Smith Jr. are engaged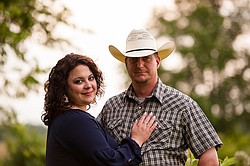 Photo
Katie Arden, Jim Smith Jr.
YOUNGSTOWN
Katie Arden and Jim Smith Jr., both of Youngstown, are announcing their engagement. The couple plan to be married in the spring, and Miss Arden's grandfather, the Rev. Eric Cahalin, will officiate for the ceremony. Invitations will be issued.
The bride-elect's parents are James and Heather Arden of Mineral Ridge.
Jim and Patti Smith of Liberty are the parents of the prospective groom.
Miss Arden attended Youngstown State University and works for Boardman Gastroenterology Group. She also is a Realtor with Burgan Real Estate.
Mr. Smith is an industrial maintenance technician and shredder operator at Metalico Youngstown.