Jazmine Sutton Julius Oliver to wed Sept. 14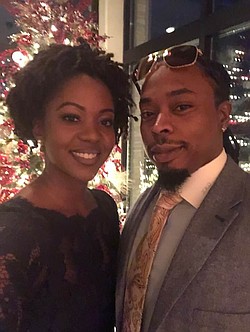 Photo
Jazmine Sutton, Julius Oliver
YOUNGSTOWN
Stambaugh Auditorium has been chosen as the setting for the wedding and reception of Jazmine Marie Sutton and Julius Thomas Oliver, both of Youngstown, whose engagement is being announced by their parents. Invitations will be issued for both events.
The bride-elect's parents are Jerry and Lynette Sutton of Youngstown. The Rev. Willie T. Oliver and Julia Oliver, both of Youngstown, are the prospective groom's parents.
Dr. Sutton earned a bachelor's degree in science from Duke University and a doctor of medicine degree from Cleveland Clinic Lerner College of Medicine. She is a physician at the Cleveland Clinic Foundation.
Mr. Oliver attended Youngstown State University and is the owner of Kingly Hand Wash & Wax in Youngstown. He also is the 1st Ward Councilman for the city of Youngstown. He also served in the U.S. Army where he was a member of the Engineer Corps.