Jamie Berndt | Mike Cerni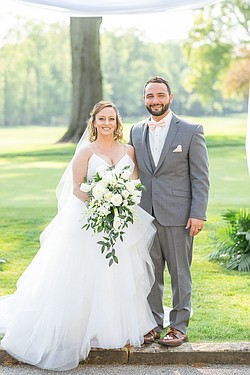 Photo
CANFIELD
The Tippecanoe Country Club in Canfield was the setting for the 4:30 p.m. May 18 wedding of Jamie Berndt and Mike Cerni, which was officiated by The Honorable Judge Scott Hunter. A reception followed the ceremony.
Dave and Faye Berndt of Canfield are the bride's parents. The groom is a son of Bridget Cerni of Hilliard.
After traveling to Italy for their honeymoon, the couple reside in Dardenne Prairie, Mo.
The bride wore a diamond-white tulle ballgown designed with a V-neck bodice and spaghetti straps. It was accented with asymmetrical layers of tulle throughout the skirt and featured cascading wisteria lace and a sheer lace back.
Bridesmaids, wearing petal-pink dresses, were Tracy Dalick Irace and Samantha Marsico, cousins of the bride; Deanna Hrelec and Angela Molaskey.
Leah Dalick, the bride's cousin, was flower girl.
The groom's brother, John Cerni, served as best man. Groomsmen were Adam Blizman, Jon LeMessurier and Bryan Barris. John Klosterman and Tommy Krueger were ushers.
Samson and Jonathan Cerni, the groom's nephews, were ring bearers.
Mrs. Cerni graduated from Youngstown State University with a bachelor's degree in business administration and is the manager of PetSmart in Manchester, Mo.
Mr. Cerni earned a bachelor's degree in economics from YSU and a master's degree in business administration from the University of North Carolina at Chapel Hill. He is the operations planner for ClarkDietrich in O'Fallen, Mo., and served in the U.S. Air Force as a boom operator.