Amanda Volosin | Brady Foley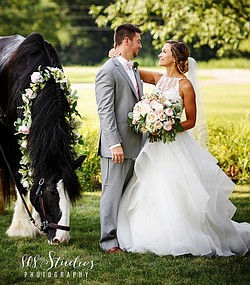 Photo
Amanda Volosin, Brady Foley
BELLBROOK
The Estate at Sunset Farms in Bellbrook provided the setting for the 5 p.m. July 20 wedding ceremony of Amanda Volosin and Brady Foley. David Fiffick officiated, and a reception followed in honor of the newlyweds.
Bill and Judy Volosin of Boardman are the bride's parents.
The groom is a son of Steve and Wendy Foley of Hamilton.
After a honeymoon in Cabo San Lucas, the couple reside in Northeast Ohio.
The bride wore a ball gown accented by a beaded bodice and lace.
Julie Sokol and Brittany Wolf were honor attendants. Bridesmaids, wearing blush-colored dresses, were Alyssa and Megan Volosin, the bride's sisters; Brianna Foley, sister of the groom; Rena Travee; Kristy Lake; and Megan Pippin.
Adrianna Lotton, the groom's niece, and Addison Volosin, the bride's niece, were flower girls.
Allen Niederman served as best man. Groomsmen were Dylan Foley and Rob Lotton, brothers of the groom; Brett Akins; Dan Belliveau; Jon George; Logan Hannon; and Jack Lamarca.
The ring bearers were Jaxson and JJ Breuning, cousins of the groom.
Mrs. Foley graduated from Ohio Northern University with a doctor of pharmacy degree. She is the pharmacy manager at Cleveland Clinic in Warrensville Heights.
Mr. Foley earned a bachelor's degree in sports management from ONU and is a program manager at Plano Sports Authority.