Eagle Scout project used to create Stations of the Cross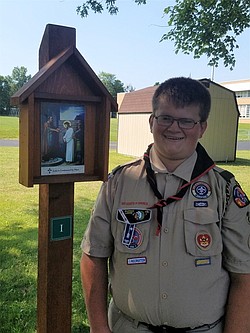 Photo
Neighbors | Submitted.David Vuksanovich, a 15-year-old sophomore at Poland Seminary School and a Life scout in Troop 9002, recently completed his Eagle Scout project.
A current Boy Scout from Poland built 14 outdoor Stations of the Cross for the parish and school at Holy Family Church over the course of a few weekends for his Eagle Scout project.
David Vuksanovich, a 15-year-old sophomore at Poland Seminary High School and a life-long Scout in Troop 9002, began the process for creating the stations in January after meeting with Monsignor Connell.
Vuksanovich is an alumnus of Holy Family School and is active in the church and youth ministry. When deciding on an Eagle Scout project, he wanted to do something for his church and school community.
Vuksanovich and volunteers from Troop 9002 started by assembling and staining the stations on June 1. They met again on June 8 to dig the holes and concrete the 14 posts into place behind the Emmaus House at the corner of the Holy Family property. Several additional days were needed to adhere the color plaques to the wooden boxes. Weather was the biggest cause for the project taking longer than expected.
The stations will give the parish, school and other ministries the opportunity to meditate and reflect during the Easter season.
Vuksanovich used donations from the church, school and school parent organization along with family friends to complete the project. The cedar wood needed for the project was from Baird Brothers while the Roman numerals by were supplied by S&T Engraving. The plaques came from Nelson's Catholic to the Max and were made in Steubenville.
More like this from vindyarchives.com