Boardman hosts annual Safety Village event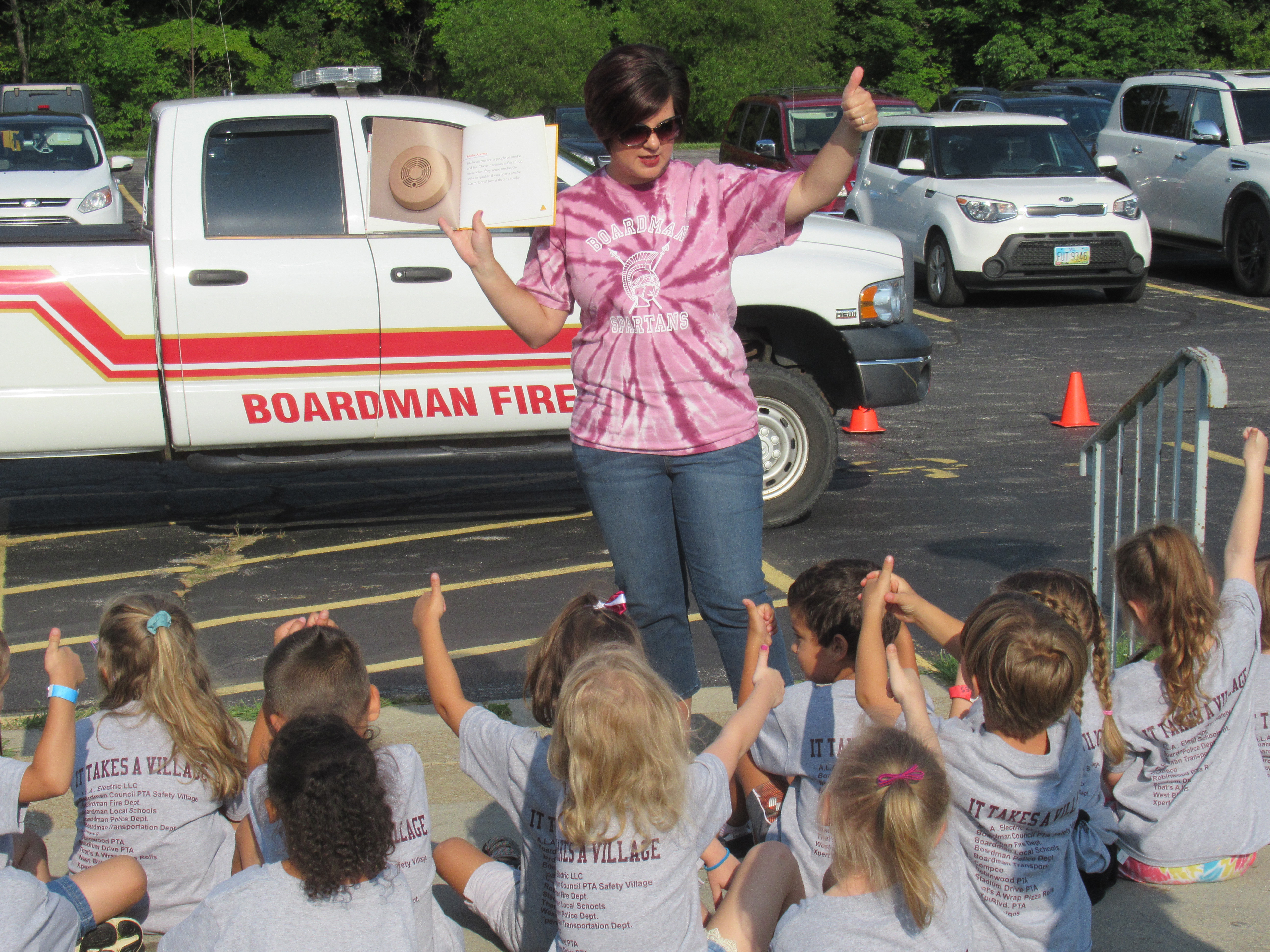 ---
By JESSICA HARKER
One hundred and forty-four incoming kindergartners attended Boardman's annual Safety Village event on Aug. 7 outside Glenwood Junior High School.
Event Coordinator Lia Rudiak said that this was the largest group of incoming students the event has hosted.
"It's a lot," Rudiak said. "But we just make sure that they are divided into groups so that they can effectively see each station."
Rudiak organized 25 volunteers to assist this moving the groups of 15 kindergartners between stations.
Students were read books and played games with the volunteers in between meeting with safety and bussing officials.
Boardman student resource officers read books to children and spoke with them about stranger danger.
Representatives from the Boardman Fire Department were also present at the event, showing children how to exit a burning building using their mobile smoke house.
"The smoke house is always the most popular because they get to get out of a window," Rudiak said.
Students also got the opportunity to sit in a police car and a fire truck.
"It's just a fun way for them to become more comfortable with police and fire officials," Rudiak said.
Children also got to go through the safety village, which Rudiak said teaches children about crosswalks, how to put on your helmet and how to cross the street.
"Safety village is the one that I like the most," Rudia said. "It covers things that we don't really touch base on outside of the home."
Transportation Supervisor Ryan Dunn also teaches students about bus safety at the event.
Dunn said that the lessons focus on teaching students how to cross in front of the bus, and focus' on teaching them how to look and listen.
"This is the time that they are going to start remembering this stuff," Dunn said. "It's those little things that stick with you as a kid that shape you as you get older."
Dunn worked along side bus drivers to teach students how to properly act on the bus.
"It all starts with the bus driver and the bus transportation so we have to make sure that they get to school safety," Dunn said.
He said that this year the transportation department has added additional bus safety for incoming kindergartners.
Before Safety Village, which is usually a kindergartners first bus interaction, students who participated in the school's Success by Six program also got to practice bus safety.
Dunn said that this helps to be sure that every student in the district gets and introduction into riding the bus before the school year starts.
"There is just never enough bus safety in the world," Dunn said. "We want to make sure that kids get to school safe."