The Sabols celebrate their diamond jubilee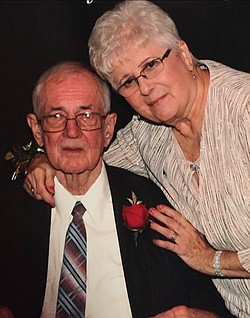 Photo
George and Patricia Sabol
STRUTHERS
In honor of their 60th wedding anniversary, George and Patricia "Pat" Sabol of Struthers recently renewed their vows. Their son, Ken Sabol, performed the ceremony. A family dinner followed at Caffe Capri in Boardman.
The couple's children are Lori and Rob Ditman of Struthers; Dan and Beth Sabol of Canfield; and Ken and Jennifer Sabol of Struthers. Five grandchildren, Samantha (Brandon) Suchora; Lindsay (Derek) Zweig; Amanda Ditman; Jason Sabol and Jessica Ditman, complete their family.
Mr. Sabol married the former Patricia Tomko on Aug. 8, 1959, at Holy Trinity Church in Youngstown.
Mrs. Sabol retired in 2000 from her position as a clerk at Komara Jewelers and Gorant Candies.
Her husband worked as a welder at GATX in Masury and Munroe Inc. in Struthers before retiring in 1984. He served in Germany with the U.S. Army from 1959-62. He is a long-standing member of VFW Post 3538.
The couple are members of Christ Our Savior/St. Nicholas Church in Struthers.