Miss Reinhardt, Mr. Spano to wed Sept. 14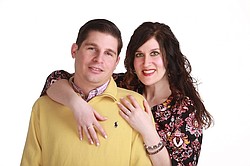 Photo
Anthony Spano, Lauren Reinhardt
GIRARD
Gerald and Theresa Reinhardt of Girard are announcing the engagement of their daughter, Lauren Reinhardt, also of Girard, to Anthony Spano of Youngstown.
The prospective groom is a son of Vince and Lucy Spano of Warren.
The couple will exchange marriage vows at 1 p.m. Sept. 14 at St. Rose Church in Girard, and a reception will take place that evening. Invitations will be extended for both events.
Miss Reinhardt graduated from Youngstown State University with a bachelor's degree in business administration/marketing-management. She is a branch manager with Huntington Bank.
Mr. Spano earned a bachelor's degree in business administration from YSU, where he is employed as the purchasing coordinator. He also is the founder and executive director of the Hope Foundation of the Mahoning Valley and the Spano Foundation.