Courtney Gratz | Jeffrey Savnik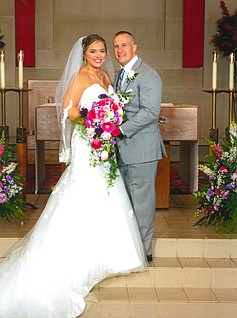 Photo
Courtney Gratz, Jeffrey Savnik
BOARDMAN
St. Charles Borromeo Church in Boardman was the setting for the June 8 wedding of Courtney Gratz and Jeffrey Savnik, who were united in marriage during a 1:30 p.m. ceremony officiated by the Rev. Gerald DeLucia and Deacon Paul Lisko. An evening reception took place at the Metroplex Expo Center in Girard.
After a honeymoon in Aruba, the couple reside in Boardman.
Warren and Debra Gratz of Boardman are the bride's parents.
The groom is a son of Richard and Theresa Cessna of Austintown.
An A-line gown with a strapless sweetheart neckline was worn by the bride. It featured beaded lace appliques and beaded sequin line detail on the bodice. A corset-back closure and chapel-length train completed her ensemble.
Melissa Mowery was matron of honor. Bridesmaids, wearing plum, wisteria and pewter-colored dresses, were Deanna Pesa; Olivia Gratz, the bride's cousin; Katie Torba, the bride's cousin; Jaime Boyer; Dina Jordan; Kathy Reese; and Kimmie Banfield.
The flower girl was London Reese.
Daniel Knicely served as best man. Groomsmen were, Bob Gratz, brother of the bride; Kevin Newberry; Cam Workman; Josh Kozic; Mark Jones; Matt Frohman; and Thomas Mulligan.
DJ Knicely was the ring bearer.
Mrs. Savnik graduated from Youngstown State University with a bachelor's degree in early-childhood education and special education and is pursuing a master's degree in educational literacy at YSU. She is a teacher in the Struthers City School District.
Mr. Savnik earned a bachelor's degree in criminal justice and is a patrolman for the Youngstown Police Department. He also is a veteran of the U.S. Marine Corps.