Alyssa Kozlow, Nick Pagoria are engaged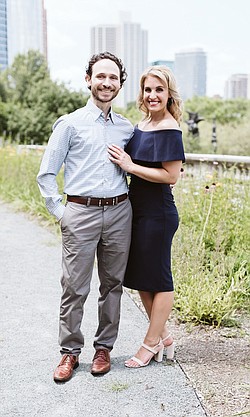 Photo
Nick Pagoria, Alyssa Kozlow
YOUNGSTOWN
Dr. James and Janet Kozlow of Youngstown are announcing the engagement of their daughter, Alyssa Kozlow, to Nick Pagoria, both of Chicago.
The prospective groom is the son of Joe Pagoria and stepson of Richard Wright, both of Chicago. He also is a son of the late Julie Thoma-Wright.
The couple plan to be married during an afternoon ceremony in early September at Chez Event Venue in Chicago. A reception will follow.
The bride-elect graduated from Miami University with a bachelor's degree in mass communication and is a senior account manager at BuzzFeed in Chicago.
Mr. Pagoria received a bachelor's degree in French and art history from the University of Michigan. He is the vice president of retail sales at Hart Davis Hart Wine Co. in Chicago.