Adrianna Ciotola | Michael Podolsky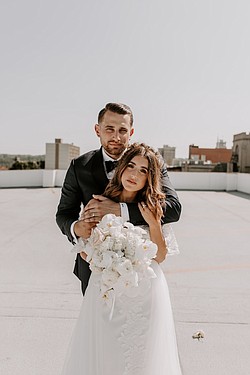 Photo
Adrianna Ciotola, Michael Podolsky
YOUNGSTOWN
The Basilica of Our Lady of Mount Carmel in Youngstown provided the setting for the 2 p.m. July 13 wedding of Adrianna Ciotola and Michael Podolsky. Monsignor Michael Cariglio and Deacon Rob Joseph were the officiants.
The couple accepted congratulations during a reception at the Tippecanoe Country Club in Canfield.
The bride is a daughter of Atty. Robert Ascenzo and Joanne Ciotola of Canfield. Dr. David and Denise Podolsky of Canfield are the groom's parents.
An off-the-shoulder gown with a nude tulle bodice accented by laser-cut floral applique flounce sleeves was worn by the bride. Her ensemble was completed with a double layer of white tulle overlay that created an A-line skirt.
The couple honeymooned in Anguilla and St. Barths.
Felicia Ciotola Drevna and Joanna Ciotola White, sisters of the bride, were matrons of honor. Bridesmaids, wearing sand-colored dresses, were Kimberly Ciotola, sister-in-law of the bride; Jackie Podolsky, the groom's sister; Joelle Stack; and Marisa DeSanto, the bride's cousin. Gemma White, the bride's niece, was junior bridesmaid. The bride's nieces, Lucia White and Camilla Drevna, were flower girls.
Alan Podolsky, the groom's brother, served as best man. Groomsmen were Robert Ciotola II, brother of the bride; Stew White, brother-in-law of the bride; Carmine White, the bride's nephew; Dave Drevna, brother-in-law of the bride; Rob Sohm; Nick Benson; and Matt Costello.
Mrs. Podolsky earned a bachelor's degree from Youngstown State University and a juris doctorate from the University of Akron School of Law. She is an attorney at Ciotola Law in Canfield.
Mr. Podolsky earned a bachelor's degree from YSU, a juris doctorate from UA School of Law and a master's degree in business administration from UA College of Business Administration. He is an attorney at Jones Day in Cleveland.