The Nemeths celebrate 50th anniversary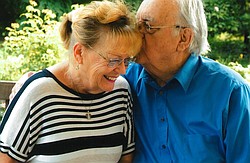 Photo
Alexander and Diane Nemeth
COITSVILLE
Alexander-Attila and Diane Nemeth of Coitsville will be honored during a buffet dinner at 5 p.m. Aug. 31 at the Heritage Golf Club in Hilliard for their 50th wedding anniversary.
The couple's children are Dr. Alexander (Dr. Theresa) Nemeth of Hinsdale, Ill.; Christopher (Kathy) Nemeth of Hilliard; and Alicia (Adam) Fusillo of Ravenna. Six grandchildren, Kaia, Alexander, Ava and Julian Nemeth and Dominic and Audrey Fusillo, complete their family.
Mr. Nemeth married the former Diane Morse on Sept. 13, 1969, at Hungarian United Presbyterian Church in Youngstown.
Mrs. Nemeth has worked as a registered nurse in various hospitals for 50 years. She is the nursing supervisor at Humility House in Austintown. She was the bicentennial secretary in Coitsville, is a member of Sigma Theta Tau and has been active in the church choir for more than 50 years.
Mr. Nemeth was a social worker with Mahoning County Human Services before retiring in 1996. He was the CEO of Recreation Enterprises, dba Fun City USA in Coitsville, sold antiques for 23 years, is a member of the American Philatelic Society and also sings in the church choir.
The couple are members of Hungarian United Presbyterian Church in Youngstown.