Aditi Mulgund, Robert Stanton set spring rite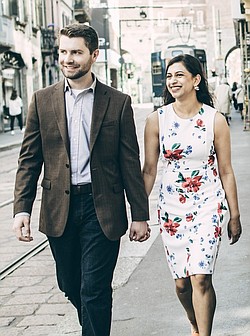 Photo
Robert Stanton, Aditi Mulgund
POLAND
Timothy and Evelyn Stanton of Poland are announcing the engagement of their son, Robert Stanton of Cincinnati, to Aditi Mulgund of Milwaukee.
The bride-elect is a daughter of Anand and Aparna Mulgund of Centerville.
The couple will be united in marriage at 1 p.m. May 23, 2020, at St. Peter in Chains Cathedral in Cincinnati. A reception will take place at 2 p.m. the following day at Hilton Netherland Plaza in Cincinnati. Invitations will be extended for both events.
Dr. Mulgund earned her medical doctorate and a master's degree of public health from Northeast Ohio Medical University. She is a fellow at the Medical College of Wisconsin in Milwaukee.
Dr. Stanton graduated with a medical doctorate from Northeast Ohio Medical University. He is a fellow at the University of Cincinnati in Cincinnati.