Toby Keith heats up Canfield fair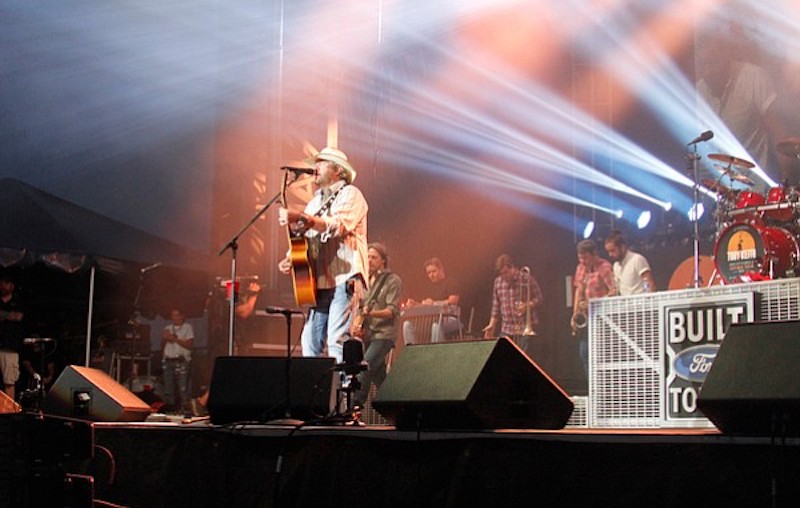 ---
Toby Keith's concert Monday at the Canfield Fair was a long time in the making, and the country music superstar with a Western flair said as much.
"We've been trying to put this together for 10 years," he told the crowd. Indeed, the Youngstown market is a solid one for country music, and a visit by Keith was overdue.
The Oklahoma native, wearing his trademark white cowboy hat, white shirt and faded jeans, delivered a career-retrospective set that included a slew of No. 1 hits from his decadeslong run.
There was a swinging take on "Who's Your Daddy?" and Keith's mid-range voice left its signature all over "Whiskey Girl."
He even shared the backstory on a few songs, which added to the intent of the concert.
Early on, Keith became one with the crowd by showing off a Youngstown State University football shirt, the back emblazoned with his last name and the No. 1 (no mention of the Penguins' deflating loss in their opener two days before).
His pitchman loyalties were also on display. A "Built Ford Tough" sign dominated center stage, a nod to the tour sponsor. That level of marketing is something you don't often see.
A full-capacity throng of about 8,000 sweltered and sang along to "Should've Been a Cowboy" and "How Do You Like Me Now?" and probably wished it had a cold one during "Red Solo Cup."
Keith is known for his patriotic spirit as much as his rough and flippant charm, and he mixed them both by toasting the armed forces and police with a red Solo cup.
Unadulterated, and maybe oversimplified, patriotism reached a fever pitch before the encore, with a "USA" chant rising from the crowd. Keith rewarded it with "American Soldier" and "Courtesy of the Red, White and Blue."
The country concert calendar for the Youngstown area has a couple more highlights before the end of the year.
The pop-flavored Keith Urban, who is on the opposite end of the country spectrum from Toby Keith, will return to Covelli Centre on Oct. 24. The next night, Dwight Yoakam will play Packard Music Hall in a concert that was originally scheduled for February but had to be postponed when the singer came down with bronchitis.
Guy D'Astolfo covers entertainment for The Vindicator.