5 indicted in Mahoning County human-trafficking case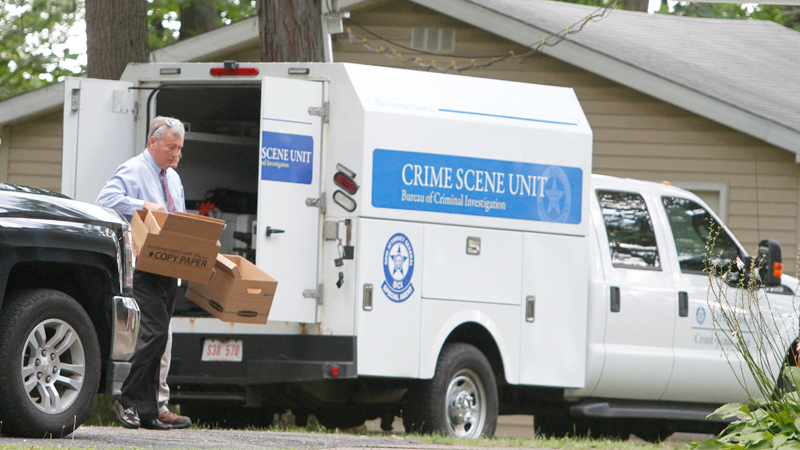 ---
By JOE GORMAN
jgorman@vindy.com
YOUNGSTOWN
A Mahoning County grand jury Thursday indicted four people for forcing juveniles and young women to have sex against their will, and a fifth person for warning them they were being investigated.
Indicted on charges of compelling prostitution, promoting prostitution, rape, pandering obscenity involving a minor and illegal use of a minor in nudity oriented material or performance are Ronald Hellman, 51, of Irma Drive; Charles Krusak, 78, of Lou Ida Boulevard in Austintiown; James Jaster, 73, of South Avenue; and Lori Jackson, 43, of Randolph Street Northwest in Warren.
Indicted for obstructing justice is Elaine Hellman, 71, of Manhattan Avenue, a call taker for the Youngstown 911 Center. The indictment alleges that she warned her son, Ronald Hellman, of either being caught or discovered.
Ronald Hellman had been in custody since August, when he was arrested in connection with the case. At the time of his arrest, members of the Mahoning Valley Human Trafficking Task Force, which investigated, said there were at least 80 victims and probably more.
They said Hellman preyed on young women and juveniles with drug problems and filmed them performing sex acts at his South Side home. Hellman used drugs or "force" to control his victims, authorities said.
A search warrant was served in July at Krusak's home in connection with the case also after the state Attorney General's Office received a tip that someone in the home was producing child pornography.
At the time, authorities with the Mahoning Valley Human Trafficking Task Force, which includes the attorney general's office, seized videos and other media devices.
Assistant Prosecutor Jennifer McLaughlin, who presented the case to the grand jury, said the investigation began in June after one of the victims was discovered by authorities.
After interviewing that victim, authorities were able to get leads to secure search warrants and other interviews.
The indictment lists 12 victims by their initials, most of them at least 16 and 17 years old, but there was one 33-year-old person who was also listed as a victim.
Jaster is charged with paying the victims or transporting them to have sex. Jackson is charged with trying to recruit or entice a 16-year-old victim in October 2017 to take part in sex acts.
Elaine Hellman is charged with warning her son on Aug. 1.
She has been placed on unpaid leave by the police department. She had worked for the 911 center since 1997, a police spokesman said.
The conduct alleged in the indictment began in 2012 and ended on June 28 of this year.
As of late Thursday afternoon, only Ronald Hellman was in custody.
McLaughlin said the illegal activity took place primarily in Youngstown and Austintown. She said the investigation is ongoing.
"There could be other defendants or victims," McLaughlin said.
The Mahoning Valley Human Trafficking Task Force is led by the Mahoning County Sheriff's Office and includes representatives from the Austintown Police Department, Howland Township Police Department, county prosecutor's office, Ohio Adult Parole Authority, Ohio Bureau of Criminal Investigation, Ohio Investigative Unit, Ohio State Highway Patrol, and the Warren Police Department.
Sheriff Jerry Greene said the investigation is disturbing. He and county Prosecutor Paul Gains credited cooperation with other law enforcement agencies as a key to bringing about Thursday's indictments.
"The number of manhours put into this investigation by our task force brought about these arrests and charges, which reaffirms the fact that these types of task forces are a necessity in continuing to be aggressive with these types of crimes," Greene said in a news release.
"This is a truly horrific case," Attorney General Mike DeWine said in a news release.
"Our investigation found that many of these victims faced violence if they tried to resist or their addictions were exploited to force their compliance."
Anyone with information related to this investigation or who may be a victim is asked to contact the Mahoning Valley Human Trafficking Tip Line at 330-480-4940.
More like this from vindyarchives.com