Phantoms earn first point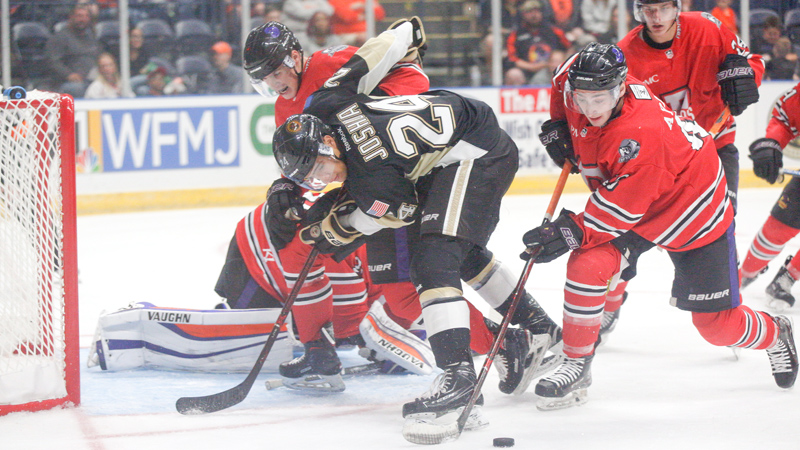 ---
By Tom Williams
YOUNGSTOWN
Connor MacEachern's first career USHL goal helped the Youngstown Phantoms earn their first point of the season.
But MacEachern's goal was not enough as the Muskegon Lumberjacks rallied with an empty-net goal to force overtime, then won the shootout for a 2-1 victory Friday in the Phantoms' home opener at the Covelli Centre.
Goalie Jon Mor came within 49 seconds of his second career USHL shutout, but Jagger Joshua deflected a pass from Bobby Lynch to tie the game 1-1 with six Lumberjacks skaters on the ice.
"He was fantastic," Phantoms head coach Brad Patterson said of Mor. "Even the one that goes in on him was a deflection.
"It's a tough one," Patterson said. "He gave us every opportunity to win that game. We had plenty of chances to do it, we just couldn't put it in the back of the net."
In the shootout, Lumberjacks goalie Brandon Bussi stopped the Phantoms' attempts (Liam Robertson with his stick, Matt DeMelis on a wide shot, Joe Abate with a pad save).
Mor foiled Daniil Guschin with a stick save and Joey Kile with a pad save. But Bobby Lynch beat the former Team USA goaltender with a shot over his glove for the shootout winner.
In the latter half of the third period, the Lumberjacks (3-0-0-0, six points) surged. With 8:31 to go, the Lumberjacks' Nolan Sullivan had a clear shot but Mor gloved the puck. A half-a-minute later, Brock Bremer skated toward the net, but Mor's glove stopped his close attempt.
Then Phantoms forward Craig Needham was whistled for slashing. In the next two minutes, none of the Lumberjacks' shots made it on net.
"He kept us in it all night," said Jack Malone of Mor. "When you let in one goal in regulation, you should be rewarded with a win.
"That's on us as forwards."
Mor said he was much more comfortable in his first home game. On Sept. 27, he was in goal when the Phantoms (0-2-0-1, 1 point) lost 5-4 to the Tri-City Storm at the USHL Fall Classic in Cranberry, Pa.
"I was a little bit caught up [in the commotion]," said Mor, who made 30 saves. "I had a good week of practice, I was able to settle myself then.
"Tonight, I feel we all played really well and we deserve better than what we got. But it's a big building block. We got a point in the standings — wish it was two."
Both teams had six power-play chances. None were successful.
Patterson saw plenty of positives.
"There were different points in the game where I thought we were really good," he said. "Credit to Muskegon — they were very good in several points of that game as well.
"It seems like every time you play Muskegon, it comes down to one goal."
Midway through the second period, MacEachern won a faceoff, getting the puck to Malone.
"He made a great play off the faceoff win," Malone said of the set play. "He put it right on my tape."
MacEachern's one-timer wristshot beat Bussi from about 25 feet out.
"A few [Lumberjacks] came to me and he was open in the slot," Malone said. "He made a great shot."