Idling of GM Lordstown plant 'new Black Monday in the Valley'
By JORDYN GRZELEWSKI
jgrzelewski@vindy.com
LORDSTOWN
The way Tommy Wolikow sees it, the General Motors Lordstown Assembly plant is as indispensable to the Mahoning Valley as the heart is to the body.
The plant has been crucial to the survival of Wolikow's own family; between him and his father, the two have more than 50 years of service at the plant. For Wolikow, continuing his family's tradition at the plant was a dream come true.
And although both he and his fiancee were laid off from the plant last January, neither has given up hope of returning to work there.
That hope grew dimmer Monday, however, with GM's announcement that it will indefinitely halt production at the Lordstown plant on March 1. As part of a significant restructuring of its global operations, the automaker said it plans to idle five plants in North America – Lordstown, two in Michigan, one in Maryland and one in Canada – and reduce salaried and salaried contract staff by 15 percent.
"If GM Lordstown closes down, it's going to be devastating for our area – and to me personally, it really hits home," Wolikow said.
GM Lordstown plant a Valley fixture since 1966
In a news release Monday morning, GM unveiled several strategies to "accelerate its transformation for the future."
"With changing customers preferences in the U.S. and in response to market-related volume declines in cars, future products will be allocated to fewer plants next year," GM said.
U.S. Rep. Tim Ryan of Howland, D-13th, called the news a "new Black Monday in the Mahoning Valley," a reference to the day in September 1977 when the closure of one of the Valley's largest steel mills was announced.
GM has invested heavily in its line of crossovers, SUVs and trucks, the types of vehicles consumers increasingly prefer. The small-car market has shrunk faster than experts had predicted; small car sales now represent less than 30 percent of the U.S. auto market. The Cruze has not been immune to that trend – GM's most recent sales report, for the third quarter of 2018, showed Cruze sales down 27.4 percent year over year. The Cruze's sales troubles led to layoffs of two shifts at the Lordstown plant in the last two years.
GM Announces end of the CRUZE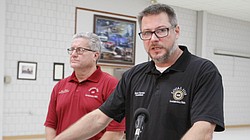 Video
Word of the closure of the Lordstown GM complex sent ripples throughout the Valley. For many, the news conjured images of 1977's Black Monday and the news of the demise of steel mills and the jobs that employed so many. U.S. Rep. Tim Ryan of Howland, D-13th, said so much in his initial statement: "Today our generation is facing a new Black Monday in the Mahoning Valley. GM's announcement is devastating for the men and women working at Lordstown and everyone here in the Mahoning Valley."
Monday's news landed like a "shot in the gut," as United Auto Workers Local 1112 President Dave Green – who represents the approximately 1,500 local GM plant and contract workers who will be affected by the shuttering of the plant – put it, following a somber news conference at the union hall in Warren Monday afternoon.
The announcement follows recent job losses from the closing of Northside hospital, a local Kmart distribution center and Toys "R" Us stores, to name a few, Green noted.
But it also hits an area that has never fully recovered, economically or psychologically, from the collapse of the steel industry in the 1970s. Through dark times, the GM plant – where its first vehicle, a Chevrolet Impala, rolled off the line in 1966 – has been an anchor in the community, employing thousands of workers at the plant and stimulating economic opportunities at dozens of other companies in its supply chain.
And, it has provided opportunities for thousands of families to buy homes and raise their families here; shop at local businesses; and give back to the local community.
"There's not a neighborhood in the Mahoning Valley that won't be hurt and affected by this. And there won't be a business in the Mahoning Valley that won't be affected by this," Ryan said, speaking to reporters at the UAW Local 1112 hall. "This stings. This hurts."
The idling of the plant will have a direct impact on local companies that supply or contract with the plant, such as Comprehensive Logistics in Austintown.
"Lordstown is [Comprehensive Logsitics'] sole customer. We are joined at the hip with Lordstown," said Jose Arroyo, local United Steelworkers representative for Comprehensive Logistics. "When they lost a shift, we lost a shift. When they lost a second shift, we lost a second shift,"
"We were hit directly in the gut with the news today. These are people with families who need a way of living and healthcare,"
He said he's seen the union membership drop from 600 to 180.
"This could be potentially catastrophic for the Valley," Arroyo said.
Ryan was among a slew of elected officials, including U.S. President Donald Trump, to speak out about the news Monday.
Ryan struck an angry tone, speaking out against the corporate tax cuts GM benefited from last year; the corporation's announcement of this news during the holidays; and Trump's lack of intervention on behalf of the plant, despite the president's repeated promises to save these types of jobs.
Ryan was not the only one to recall Trump's July 2017 rally in Youngstown, at which Trump said, "Those jobs [that] have left Ohio, they're coming back. ... We're going to fill those factories back up."
"Don't sell your house," he urged the Valley crowd.
Trump's campaign rhetoric on saving blue-collar jobs resonated with many local voters; he even managed to flip historically-Democratic Trumbull County in the 2016 election, winning 49,000 votes there.
"He campaigned here. He was saying, 'Open up the steel mills. Open up the coal mines. Get these factories back up and running,'" Ryan said, noting the corporate tax cuts Trump signed into law last year. "The whole selling job was, 'They're going to reinvest back in the factories and we're going to start building things in the United States.'"
"You can't get his attention for two years," an exasperated Ryan said. "Pay attention to what's going on. Stop the sideshows, because there are real people getting hurt by what's happening here. ... [Trump] didn't lift a damn finger. He could have been maybe the only person who could have helped."
Trump, asked by a reporter about GM's idling of the Lordstown plant, said he was "very tough" in a conversation with GM CEO Mary Barra.
"I spoke with her when I heard they were closing. And I said, 'You know, this country has done a lot for General Motors. You better get back in there soon. That's Ohio, and you better get back in there soon,'" Trump said.
Trump, noting the sales slump of the Cruze, said GM should reallocate a vehicle to the Lordstown plant that is selling well.
"I have no doubt that, in a not-too-distant future, they'll put something else. They better put something else in," he said.
What will happen to the plant, however, remains to be seen.
Ryan said he asked GM officials what will happen to the facility while its sitting idle; "They didn't have a good answer for that," he said.
Industry analysts said contract negotiations next year between the UAW and GM will be a critical period, as that is when decisions about product allocations typically are made.
Michelle Krebs, executive analyst for Autotrader, said the writing is not yet on the wall for the Lordstown plant.
"This is all part of the 2019 UAW contract talks. Whenever they negotiate with the union, job security and future product go hand-in-hand," she said.
The Lordstown plant, she said, will be in competition with the other plants without product allocations.
"They can vie with the other plants on the list for any new product," she said. "It doesn't mean they'll win. I don't know what products are coming or how much capacity GM will need for those, or how they'll rearrange some of those products. But it will be a competition."
An announcement on such a decision likely will come in August or September, she said.
Jeremy Acevedo, manager of industry analysis for Edmunds, said it would not be unheard of for the UAW to get such a commitment during contract talks.
"Definitely there are examples of that kind of back-and-forth and those negotiations working to the advantage of workers and plants," he said.
Although they fear the worst-case scenario, it's for that reason that local UAW and elected officials say they are holding out hope that the era of GM Lordstown is not over.
Green said a campaign launched last Monday to rally support for the plant, "Drive It Home," will continue. He encouraged people to visit driveithomeohio.com.
"The fact that we're not in a closed status, the fact that we're in an idled, non-allocated status gives me hope," he said.
He is hopeful that the Lordstown's plant location, workforce, and widespread community and political support will distinguish it when the time comes for GM to make decisions about future products.
"We've got the best workforce in the world and GM needs to see it, recognize it, and I think they will," he said.
A local plant spokesman directed media inquiries to GM's corporate office; calls to a spokeswoman there were not returned.
Word of the closure of the Lordstown GM complex sent ripples throughout the Valley.
For many, the news conjured images of 1977's Black Monday and the news of the demise of steel mills and the jobs that employed so many.
U.S. Rep. Tim Ryan of Howland, D-13th, said so much in his initial statement: "Today our generation is facing a new Black Monday in the Mahoning Valley. GM's announcement is devastating for the men and women working at Lordstown and everyone here in the Mahoning Valley."
Throughout Monday, community members shared their thoughts with The Vindicator:
•••
"We did not see this coming," Jess Adams, a 40-year GM Lordstown employee said late Monday as he left the plant after learning the plant would close in March.
"Hopefully they will change their mind and give us a product." Adams said. "We've always survived before, and I think the plant is in a good position."
The location near the Ohio Turnpike is an asset, and "I think our workforce is probably one of the better ones in GM has." He added, "I've been here 40 years, and I've seen the changes that go through. And we've changed for the better. And now we have to change more."
•••
GM Lordstown retiree Dan Lawrence said it's upsetting to see how much automakers entice consumers to buy sport utility vehicles instead of cars.
"It's sad the way they advertise things," Lawrence said Monday morning at Nese's restaurant in Lordstown. He said GM's Buick commercials are an example. They show people looking at a car and wondering how they will get a car load of football players or surf boards inside.
"They've got a whole lineup of Buicks — there's four-door cars, two-door cars and SUVs ... but everything points people to buy SUVs."
He said he and his wife, Linda, went to a Cadillac dealership and said they were interested in four-door car.
"They looked at us like we were crazy," he said.
•••
Lordstown schools Superintendent Terry Armstrong said he is devastated.
"Like everyone in the Mahoning Valley we at Lordstown schools' first thoughts are with the workers and their families at GM Lordstown," he said. "We have already seen school families negatively impacted by the elimination of the first and second shifts and now this news is just devastating. Our school community will be here for them and work with all area agencies to assist in any way we can. Our thoughts are with all GM Lordstown employees, their families, and all other area workers and their families impacted by recent job losses."
•••
"I hope the plant doesn't close down," said Jason Dickey of Newton Falls, owner of a construction company. "If it does close down, the effect on the community will be [widespread].
"It's going to affect everything, housing, development, it's going to affect small businesses. There's going to be ripple effect. Nothing will get better without that plant out there."
•••
Donna Himes of Lordstown said the news of the closing is "heartbreaking."
Her son is still employed at the plant but has seen so many of his co-workers relocate to Tennessee and other places that he's had to consider it himself.
She fears this could be the news that sends her son to another part of the country.
"If he relocates and leaves, that would break my heart," she said. "I just lost my husband two years ago, and Matt has been my rock."
2018 Valley closures
Nov. 17: Petco Boardman – 10 jobs
Sept. 20: Northside Regional Medical Center – 468 jobs
Mid-July: Sears Southern Park Mall – unknown
June 30: Toys 'R' Us, Babies 'R' Us Niles, Boardman and Poland – 100 affected
June 18: General Motors second shift – 1,500 affected
June 18: Lordstown Seating Systems – 83 affected
June 15: Comprehensive Logistics Inc. – unknown
April 8: Kmart Howland – 133 affected
Jan 28: Kmart Austintown – unknown
Source: Vindicator files
•••
James Dignan, president and CEO of the Youngstown/Warren Regional Chamber of Commerce, said the news is disappointing.
"We understand the business decision made by GM as they move forward executing their strategic plan ... we knew consolidations would be coming, but the timing is disappointing," he said.
Dignan said he is hopeful the Drive It Home campaign will continue and that the area will remain open to not only GM but also others for future investment.
"We have to be hopeful [with] eyes opened and prepared for the next opportunity," he said.
•••
Jim Graham, Warren City Council president and former union leader at GM Lordstown, said "The hard work of the people of Lordstown have put in throughout the years and the quality of product they've put out ... they were a building block for General motors," he said. "For GM to turn their back on that plant it just doesn't seem fair."
Graham added that he hopes President Donald Trump "wakes up and smells the coffee."
"He won this area — a largely democratic area and he has not said a word yet and that's just pathetic," he said.
•••
Greg Greenwood, owner and operator of Greenwood Chevrolet, said nobody really knows what the news means in the long-term.
"The last thing that would matter is how it would affect local car dealerships," he said. "The [GM workers] have done an amazing job [and] built amazing products in very collaborative way. Sedans just aren't selling like they used to sell ... my heart goes out to them."
Greenwood said the community needs to come together to support the workers affected by the recent edict.
"We need to leave as many doors open as we can by way of community support," he said.
•••
Diane Sauer of Diane Sauer Chevrolet in Warren said "first and foremost" her dealership is "thinking about the people most directly impacted — the employees at the plant."
"Will it affect my business? Yes it will," she said. "I hope the effort to secure future jobs will be successful." She was referring to the HomeGoods distribution center in Lordstown and the AutoParkit automated parking company developing facilities on Dana Street in the former Packard Electric facilities in Warren.
"We have no choice but to go forward and hope positive things will happen, possibly the effort to secure a new product [at GM Lordstown] will be successful, but we don't know," Sauer said.
•••
Brian Pearson, Girard firefighter and secretary of International Association of Fire Fighters Local 1220, said the news is disappointing.
"We're thinking of our brothers and sisters in the UAW and their families who are going to be affected going forward," he said.
The potential closure is a huge hit for the Valley, but "the Mahoning Valley knows how to be resilient," he said. "I'm optimistic they will come up with a solution and move forward."
Pearson pointed out that taxpayers bailed GM out in 2008, and said it seems the company in the last couple years turned around and invested more in their Canada and Mexico operations.
Luke Grunder, Girard firefighter and president of Local 1220, said the news is devastating for the Valley, and an attack on union workers.
"They keep posting these high profits but they are doing it off the employees backs. It's despicable, it's corporate greed at its finest," he said.
More like this from vindyarchives.com