Newcomers, Messina ignite Phantoms win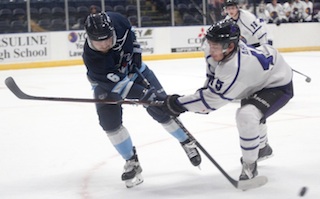 ---
Phantoms v. Capitols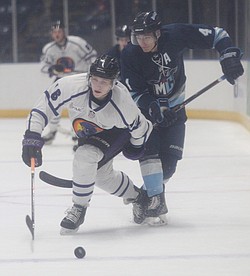 Gallery
By TOM WILLIAMS
williams@vindy.com
YOUNGSTOWN
Two of the newest Youngstown Phantoms played a key role in their fifth November win.
Matthew Barnaby Jr. scored his first goal in his third Phantoms game while goaltender Vincent Purpura made 19 saves in his team debut. Dalton Messina scored twice as the Phantoms improved to 5-2-0-1 since Halloween with Friday's 4-2 victory over the Madison Capitols at the Covelli Centre.
"I think we've finally found our identity," Messina said. "I think we always knew we had it in us, that we could be good, solid team.
"I think that's starting to show."
Twelve days ago, Barnaby and Purpura were traded to the Phantoms from the Chicago Steel (Barnaby) and Omaha Lancers (Purpura).
"I was extremely excited," the 6-foot-6 Purpura said of the trade. "It's a great opportunity. Coming here gives me a little bit of a confidence boost."
Head coach Brad Patterson said, "[Barnaby] has a point in [each] game that's he's played [for us], but he's been around a lot of chances. He's very calm and collected with the puck, he's got a great shot and it's paying dividends."
The Phantoms (7-8-0-2, 16 points) quickly overcame an early shocker. With a two-man advantage, Capitols penalty killer Chase Brand stole the puck for a breakaway. His backhand shot went through the sprawling Purpura's goalie pads for a 1-0 lead.
"Good move," Purpura said. "He brought it forehand, I thought he was going to go 5-hole, but he went backhand, slid it 5-hole."
Thirty-three seconds later just after the first Capitols penalty expired, Barnaby tied the game.
"It's awesome, I'm really happy to be here," Barnaby said. "Anytime you can come back and crunch their momentum and start your own, it's great.
"After that goal, the boys didn't let up at all and we just took it to them the rest of the game."
Midway through the second period, Messina's first goal put the Phantoms ahead for keeps. Trevor Kuntar and Gianfranco Cassaro assisted.
Twenty-three seconds into the third period with the Capitols (4-9-1-2, 11 points) about to be penalized, Messina struck again, this time assisted by Josh DeLuca.
"My teammates definitely made it easy [for me]," Messina said.
With 9:22 remaining, Brand struck again on another backhand shot to slice the lead to 3-2.
With Capitols goaltender Joseph Lamoreaux pulled for an extra skater, Jack Malone sealed the win with an empty-net goal.
Garrett Suter, Madison's third-year head coach, was ejected in the second period during a strange sequence. After Phantoms forward Liam Robertson was called for hooking, Suter had a heated discussion with referee Nolan Bloyer and was given a two-minute bench penalty for abuse of an official plus a game misconduct.
"It's rare," said Patterson who twice finished games when Anthony Noreen (2011-15) and John Wroblewski (2015-16) were head coaches. "Any time you play a close game, it's heated."
The Phantoms killed the Capitols' three power-play chances and were 1-for-5 with an extra skater.